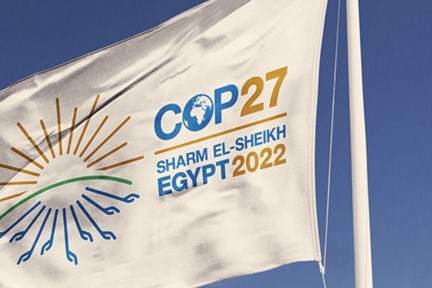 (15 Nov 2022, Singapore)Using technology to transform food waste into feed, developing menstrual cups to help poor rural women, and holding activities to raise ocean awareness, Singapore's start-up companies and environmental organizations stepped onto the global stage, showcasing innovative and sustainable technologies and solutions at the Singapore Pavilion of the United Nations (UN) Climate Change Conference (COP27).
For the first time, Singapore has set up a pavilion at the UN Climate Change Conference, with more than 100 government agencies, corporations, non-governmental organizations and other exhibitors. In addition to showcasing innovative solutions on the interactive screen of the pavilion, a number of participants also travelled to Egypt to participate in a series of dialogue sessions and interact with the public and businesses from all around the world.
Freedom Cups, a start-up company in Singapore, develops reusable menstrual cups, which are more environmentally friendly than sanitary pads. For every menstrual cup sold, the company will also donate one to women in poor villages.
The company's co-founder Vanessa Paranjothy, 33, said in an interview that the main reason for participating in the Singapore Pavilion was to show how the entire Singapore's society coped with climate change together. In addition to government agencies, individuals and non-profit organizations are also doing their part to promote climate action.
Sean Tan Zheng Wee (29), the founder of Insect Feed Technologies, also participated in a dialogue session at the Singapore Pavilion. He said that by participating in the COP27, he was not only able to showcase the company's sustainable technology to the world, but also help to promote the commercialization of insect technology.
The company mainly farms black soldier flies (BSF) as a reliable, cost-effective and sustainable source of protein for animal feed and plant fertiliser. Their products help to make agriculture more sustainable, offsetting carbon by diverting food waste from landfill, and replacing unsustainable feed and fertiliser in the food system. The company currently obtains palm oil waste from Malaysian enterprises. Sean Tan Zheng Wee hopes to find more foreign companies that can provide such waste resources through the pavilion's activities.
Coastal Natives, a marine conservation organization in Singapore, has set up several exhibitions at the Singapore Pavilion, such as a photography exhibition of Singapore's coral reefs, an augmented reality (AR) art exhibition to help raise awareness of marine threats, and an immersive diving audio.
The organization's co-founder, Kathlyn Tan (34), believes that attending COP27 is a very enriching experience, which can not only network with partners from all around the world, but also to learn about relevant research and work being carried out in other countries.