(Singapore Sep 8, 2023) Singapore and Indonesia have signed a Memorandum of Understanding (MOU) to strengthen low carbon energy project and cross-border electricity trade.
The MOU was signed by Singapore's Second Minister for Trade
and Industry Tan See Leng and Indonesia's Minister for Energy and Mineral Resources Arifin Tasrif in Jakarta, Indonesia at the sidelines of the Indonesia Sustainability Forum (ISF).
Officials say the MOU brings Singapore a step forward towards
its target to import up to four gigawatts of low-carbon electricity by 2035.
Under the MOU, both countries will cooperate to support the
development of commercial projects for cross-border trading of low-carbon electricity, facilitate such projects according to their respective laws and regulations and collaborate on interconnections for cross-border electricity trading.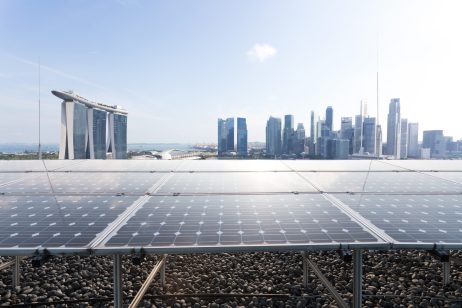 This MOU builds on existing MOUs signed between Singapore and
Indonesia that call for stronger bilateral energy cooperation for the benefit of businesses and citizens. This includes the MOU on Renewable Energy Cooperation signed by Senior Minister and Coordinating Minister for National Security Teo Chee Hean and Indonesia Coordinating Minister for Maritime Affairs and Investment Luhut Pandjaitan in March 2023, and the MOU on
Energy Cooperation signed by Minister Tan and Minister Arifin in January 2022.
Minister Tan said, "Singapore and Indonesia are longstanding partners with many areas of common interests. The MOU we have signed today and the Conditional Approvals (CAs) for two gigawatts of electricity imports are testament to this robust relationship. This MOU serves as an opportunity for us
to strengthen our collaborations on cross-border electricity trade.
"Doing so supports the decarbonisation of both countries. I am confident that this MOU will pave the way for businesses to explore new areas of investments in renewable energy," he added.
Minister Arifin said, "As we strengthen our connections across borders, we are creating an ecosystem of energy flow that transcends geographical boundaries. This spirit of interconnectivity goes beyond power lines and
pipelines; it represents a mutual and equal cooperation between our nations."
Singapore's Energy Market of Authority will also be granting CAs to five projects to import a total of two gigawatt of low-carbon electricity from Indonesia to Singapore. The CAs facilitate companies in obtaining the necessary approvals and licences for their projects, including the setting up of manufacturing plants for solar photovoltaics and battery energy storage systems in Indonesia. More information can be found in EMA's press release.