As of today, parties in an employment dispute will be able to file their claims online, without having to travel to the State Courts,  the Singapore Government has announced.
Officials say this is part of the new Employment Claims Tribunals (ECT) online filing module which can hear both statutory and contractual salary-related claims for up to $20,000, or up to $30,000 if the dispute has gone through mediation assisted by unions.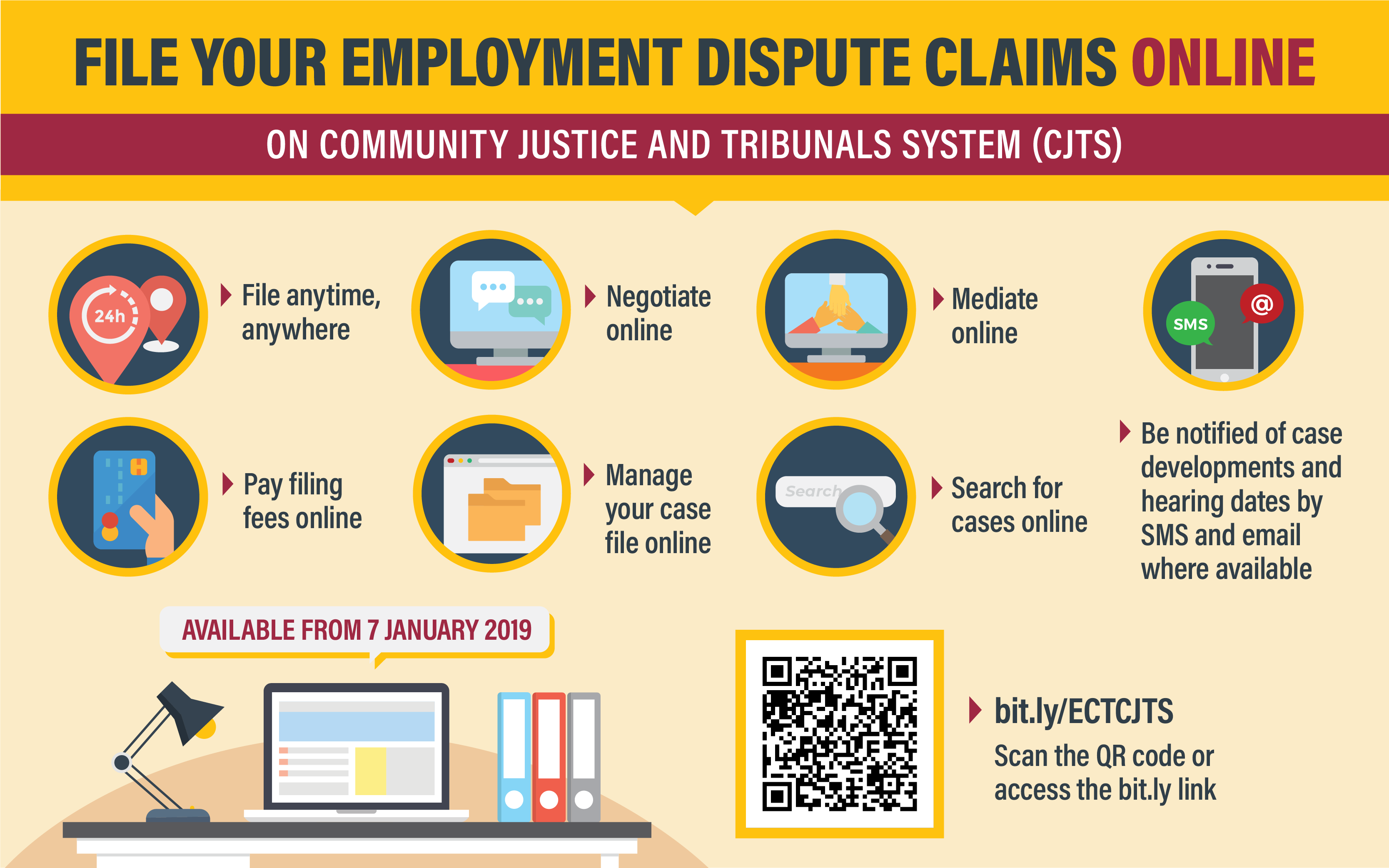 Individuals and corporate entities can use their SingPass or CorpPass to access the Community Justice and Tribunals System (CJTS). If the users are not eligible for either, they can apply for a CJTS Pass for access.
Settlement agreement recorded during a mediation session at the Tripartite Alliance for Dispute Management (TADM) can be registered on the CJTS if an amicable agreement is reached.
If mediation is unsuccessful, parties can file their employment dispute claim together with the claim referral certificate online immediately.
Parties can also submit and view documents, pay filing fees, select a preferred court date within a given period, and monitor case developments online without the need to come to the State Courts.
Parties will be notified of case developments and hearing dates via SMS and e-mail notifications, where available.
The parties may also e-Negotiate a settlement or opt to engage in e-Mediation in the CJTS, with the help of a court mediator.
If a settlement is reached via either e-Negotiation or e-Mediation, parties may apply online for a Consent Order and the case will conclude once the Consent Order is issued.
If parties are unable to reach a settlement, the case will then proceed to the case management and hearing stages of the employment claims process.
Some 1,700 cases have been filed with the ECT since it opened on April 1 in 2017. As of Nov 30 last year, 94% of the cases have been concluded, the State Courts said.
The State Courts also said three in 10 individuals who filed claims at the ECT were professionals, managers, and executives.
The top three types of employment claims were for non-payment or short-payment of salary or allowance, overtime payment and salary in lieu of notice.