A Swedish schoolgirl, who rose to prominence because of her determination to persuade global leaders to take climate change seriously, has once again expressed her anger to the world's most powerful people.
"We are in the beginning of a mass extinction and all you can talk about is money and fairy tales of eternal economic growth," Greta Thunberg, the Swedish climate activist told the United Nations General Assembly on Monday.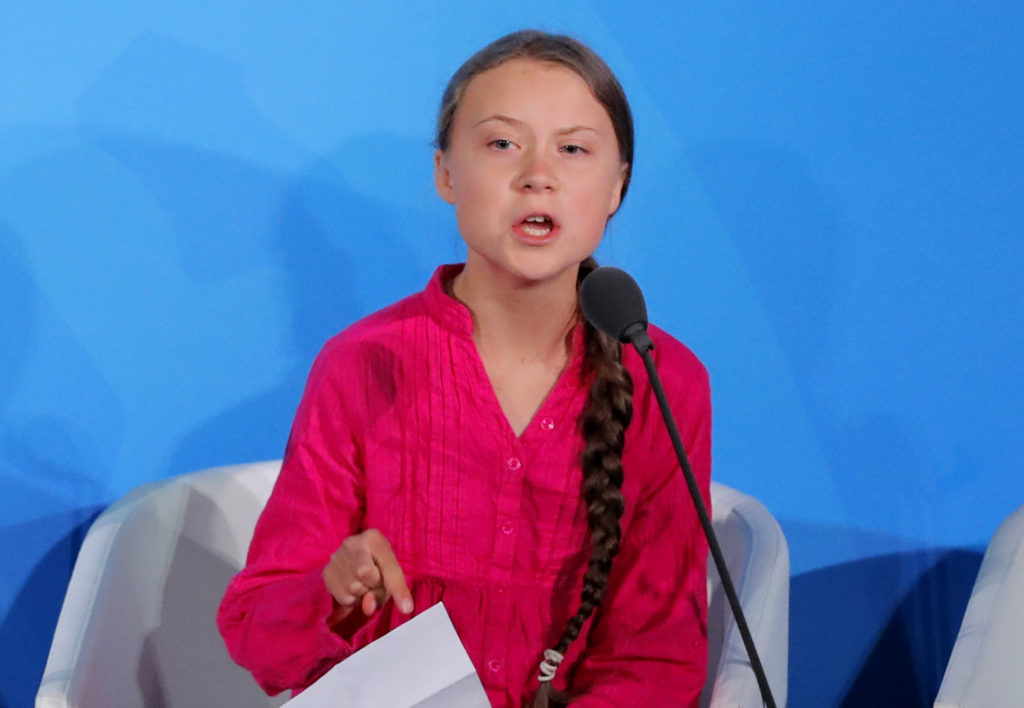 "How dare you?" Speaking during the UN Climate Action Summit in New York, the 16-year-old was visibly frustrated with her audience and at times appeared to be holding back tears of anger.
"You have stolen my dreams and my childhood with your empty words and yet, I'm one of the lucky ones," Thunberg told the assembly with her signature long braid swept to the side. "People are suffering, people are dying."
Thunberg accused them of not doing enough to mitigate climate change. "For more than 30 years, science has been crystal clear. How dare you continue to look away?"
A video clip on Twitter later that day showed that Thunberg glared at Mr. Trump as he passed through a hall. (https://twitter.com/i/status/1176176291604762624)
She started with weekly sit-ins outside the Swedish Parliament, holding a handmade "School Climate Strike" sign. In just a few months, the one-girl protest grew into a worldwide movement, with students walking out of schools in well over 100 countries.
The latest science shows that the world is getting hotter faster and the dangers of global warming are increasingly clear, with more intense hurricanes, longer droughts and heat records being broken. It was an opportunity to show that the world's most powerful countries could step up.
However, as an NYT report says, the United States did not request a speaking slot at the summit, but President Trump unexpectedly dropped into the General Assembly hall with Vice President Mike Pence in the late morning.
Michael R. Bloomberg, the former New York City mayor who is now a United Nations special envoy for climate, welcomed Mr. Trump's presence and addressed the president directly by saying, "Hopefully our discussions here will be useful for you when you formulate climate policy."
That was followed by laughter and applause. It signaled a sharp contrast from just a few years ago, when the United States was credited with pushing other countries, including China, to take climate change seriously, the report says.
The United States has said it intends to withdraw from the 2015 Paris climate accord. It is not on track to meet its voluntary pledges under the agreement in any case. And the Trump administration has rolled back a host of environmental regulations that were meant to curb greenhouse gas emissions from automobile tailpipes, coal plants, and oil and gas wells, the report says.
Besides Thunberg, advocates and diplomats who have been following climate talks for years said they were disappointed.
Andrew Steer, head of the World Resources Institute and a former World Bank official, said most of the major economies fell "woefully short" of expectations. "Their lack of ambition stands in sharp contrast with the growing demand for action around the world," he said according to the New York Times.
Wang Yi, a special representative for Chinese President Xi Jinping, said that his country was keeping the promises it made under the 2015 Paris Agreement and that "certain countries" were not, with obvious reference to the US.
Also at the summit, Singaporean Prime Minister Lee Hsien Loong called for member states of the United Nations to redouble their efforts to mitigate climate change.