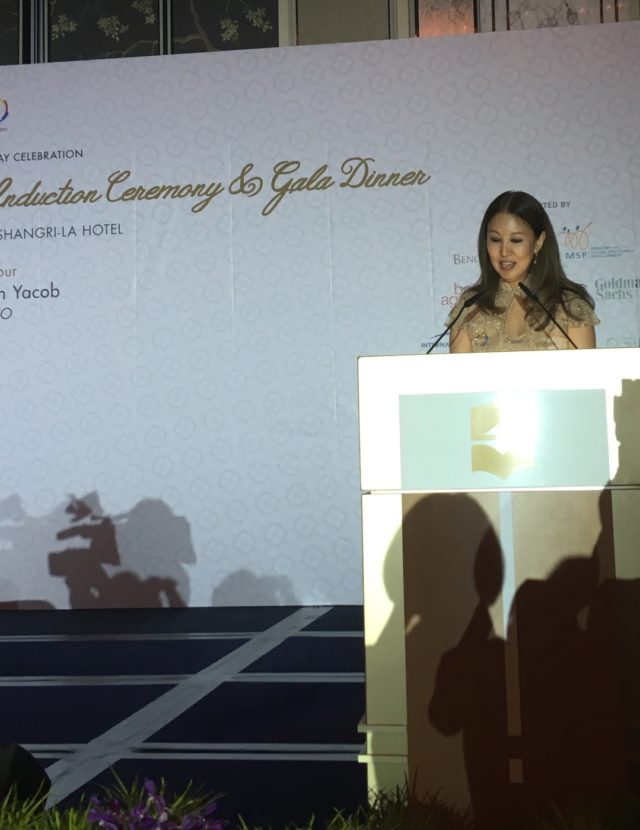 Ngian Siew Ling
Singapore, 26 March 2018 – The Singapore Council of Women's Organizations (SCWO) commits itself in the celebration of International Women's Day annually every March with an induction ceremony, and it is especially special with the 5th Singapore Women's Hall of Fame Induction Ceremony Shangri-La 2018 being that the Guest of Honour that special evening was President Halimah Yacob.
On this occasion, veteran Mediacorp Artiste, Ms Zoe Tay also attended this very event for the very purpose of creating awareness to the issues of Violence Against Women through a short video that she will be working with SCWO.
In recognising and celebrating the contributions of women to Singapore's growth and development, as well as, inspiring more women and all Singaporeans to chart their own paths in life, promote boldness and visionaries for the pursuit of their passions, there had been 12 influential women inducted in the Hall of Fame.
Those Honourees are as follow:
Tan Teck Neo, Philanthropist and pioneering community leader

Mozelle Nissim, Grand Old Lady of Singapore's Jewish community

Grace Yin Pek-Ha, Pioneering community worker

Zena Clarke Tessensohn, Founder of Singapore's first sports clubs for girls

Daisy Devan, Singapore's Mother Music

Puan Noor Aishah, Singapore's First Lady

Phyllis Tan Poh Lian, First woman president of the Law Society

Geraldene Lowe-Ismail, Pioneering tour guide

Yang Chang Man, Protector of the Raffles Collection

Anastasia Tjendrio-Liew, Founder of one of Singapore's most successful bakery chains

Miranda Yap, Pioneer of biomedical sciences in Singapore

Claire Chiang, Champion of Corporate Social Responsibility
"These are trailblazers who have paved and led the way for future generations of women. I am confident that their stories will encourage our younger generation to achieve their full potential." President Halimah Yacob mentioned in her hearty speech during the ceremony.
There are already 140 women who have already been inducted into the Hall of Fame today, apart from the recent 12. These will be the role models for the next generation who have also showcased their singing and dancing talents during the event. These young talents are as young as primary school levels' students who sang to the very passionate tune of Beyonce's "Listen", the talent was so bright that evening that it lit the spirits of all women in the room with her unique passion and as a trailblazer herself.
If a young child can bravely portray her passion to the world that very evening, then there will be no dreams too high for any women to achieve and no goals Singapore cannot continue to achieve, especially in the obtainment of the 20% of female representation on boards by 2020.