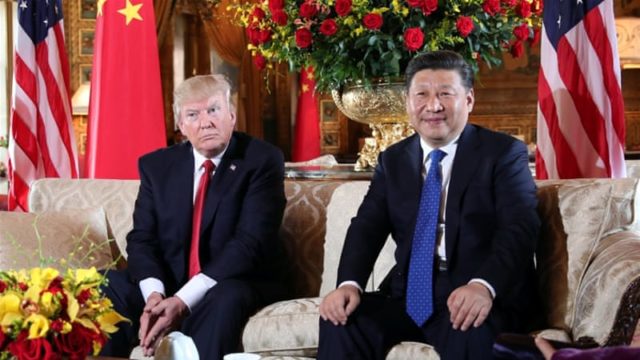 Singapore, 5 April 2018 – The leaders of the world's two biggest economies are waiting to see who backs down after firing the opening shots in a trade war.
US President Donald Trump took aim at China's plans to dominate strategic technologies on Tuesday by slapping tariffs on 1,333 of the country's products – from semiconductors to lithium batteries. Chinese counterpart Xi Jinping's government hit back with proposed levies on key American imports including soya beans and Boeing Co jets, a tougher response than many expected.
"This is a game of chicken, with both sides seeing the other as the bigger chicken," said Scott Kennedy, a China scholar at the Washington-based Center for Strategic and International Studies.
"They are positioned in a way that could create miscalculations on both sides and create an escalatory ladder."
While the stiff Chinese response sent global markets on a roller-coaster ride on Wednesday, attention turned to whether Mr Trump would look to make a deal or first squeeze Beijing harder. The US president – who last month boasted that "trade wars are good and easy to win" – has also directed the Treasury Department to draft restrictions on Chinese investment, which could prompt further retaliation.
Both sides still have time to back down: Mr Trump's tariffs must pass a 60-day public comment, and China said its duties will take effect at the same time. Beijing has urged dialogue, and Mr Xi is expected to pledge greater openness to foreign trade and investment at a Chinese economic forum next week.
After China proposed its tariffs, Mr Trump blamed his "foolish, or incompetent", predecessors for allowing the US's trade deficit to expand.
"We cannot let this continue!" he said.
His National Economic Council director, Larry Kudlow, meanwhile spent much of the day trying to calm the markets, saying the tariffs "are all proposals" that could be withdrawn.
Still, Mr Trump and Mr Xi each have reasons to believe the other might blink first. China's Communist Party has relied on the country's decades-long economic boom to sustain one-party rule and can't afford a downturn that could spark a meltdown in its ballooning debt pile.
"Chinese strategists are seeing no good economic argument for escalating the situation," said Erlend Ek, an agriculture and trade research manager at China Policy, a consulting firm based in Beijing.
"They see good economic reasons for de-escalating it, however."
Meanwhile, Mr Trump faces a mounting series of political concerns, including mid-term congressional elections in November. China's tariff list struck at Midwest farming districts that Republicans need to retain control of Congress, and the broader trade worries have cooled frothy stock prices that Mr Trump had claimed credit for at campaign-style rallies.
"Contrary to China, where the government can easily create a unified voice, the Trump administration will have to manage diverse interests from a whole industrial and commercial spectrum," said Jingzhou Tao, a managing partner of Dechert LLP's Beijing office.
"The question is whether Trump is ready to accept that pressure from different interest groups."
China's tariffs come shortly after it detailed US$3 billion of reciprocal levies against US products from pork to wine. Those came in response to earlier Trump measures against steel and aluminum imports.
Efforts to end the fight are complicated by uncertainty about whether Mr Trump is seeking quick, headline-grabbing concessions or a fundamental realignment of trade ties. China's Commerce Ministry this week accused the Trump administration of rebuffing a March 26 attempt at dialogue, a day after Treasury Secretary Steven Mnuchin reported "very productive conversations" with Beijing and expressed optimism about a deal.
Mr Trump may be looking for a bigger fight over Mr Xi's "Made in China 2025" plan to to dominate strategic technologies. Beijing has signalled a willingness to allow more foreign participation in sectors that could improve its services economy – such as banking and insurance – but could harden its stance if the dispute threatens China's broader ambitions.
"It has been crystal clear that the US's true intention is coming hard after China's high-end tech industries and Made in China 2025 project," said He Weiwen, deputy director of the Center for China and Globalization in Beijing and a former Commerce Ministry official.
"This is a strategic move hindering China's effort to grow into leading role in high-tech industries and overtaking the US someday."
Mr Xi has used the trade dispute to cast himself as a defender of globalisation and bodies like the World Trade Organization – both traditional US roles. His government on Wednesday called on the entire WTO membership "to lock arms with China in fighting against the US blatant protectionist acts".
While economies such as the European Union and Japan share Mr Trump's concerns about China's economic policies, they've also been targeted by his trade actions, said Siddharth Mohandas, a former adviser to ex-secretary of state John Kerry who's now director of research at the Asia Group in Washington.
"What you are seeing is a contest of narratives between the Chinese government and the American government," Mr Mohandas said. "The question is: which one will win out?"
Bloomberg