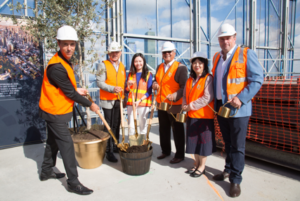 UEM Sunrise and Hickory Group celebrated the structural topping out of Conservatory in Melbourne
A selection of 477 significant artefacts from the 1800s Early Gold Rush era will soon be on public display
Conservatory Top Out – from left: Philip Rowe, Michael Argyrou, Ong Chee Wei, Tan Sri Dato' Sri Zamzamzairani Mohd Isa, Lim Tau Kien and Andrew Fortey at the symbolic launch ceremony on the roof top.
Singapore, 20 April 2018 – UEM Sunrise Berhad ("UEM Sunrise" or "the Company"), one of Malaysia's leading property developers, along with Hickory Group ("Hickory"), celebrated the "topping out" of Conservatory at a ceremony on the building's rooftop recently.
The AUD$330 million luxury residential building, located on MacKenzie Street in Melbourne, will be UEM Sunrise's first completed project in Australia since the Company's entry into the Melbourne market in 2013.  The first stage of Conservatory apartments will be handed over to purchasers from late September 2018 onwards.
UEM Sunrise's Managing Director and Chief Executive Officer, Anwar Syahrin Abdul Ajib said: "Conservatory marks an important piece of history for UEM Sunrise – it's the next step for us in fulfilling our promise of delivering quality, luxury projects in Australia, with Aurora Melbourne Central set to be handed over to purchasers from 3Q 2018 onwards and site works of Mayfair commencing this year."
He added: "Conservatory is an integral part of Melbourne's history, too. Before construction began, we engaged an archaeological consultant for an archaeological excavation of the site. They uncovered over 250,000 artefacts, dating back to the early gold rush in the 1800s when the site was the Mistletoe Hotel."
"Fittingly, these items reflect an opulent time when Melbourne's population was bourgeoning, and settlement started to take shape. Conservatory similarly represents a new era of population growth and will service Melbournians with luxury accommodation options, boasting views over the Carlton Gardens and lavish amenities such as a rooftop jacuzzi, private cinema and golf simulator."
From late September 2018, 477 pieces of significant artefacts found at the construction site of Conservatory will be on display in purpose-built glass cases in the foyer of the building, which the public can view from the Bell Place Laneway. UEM Sunrise has worked closely with Heritage Victoria and the appointed archaeological consultant as well as a conservator to identify these artefacts, which will include:
Hidden Loot – a small revolver and bullets, together with a small leather wallet and beaded necklace, were found hidden in the Mistletoe Hotel cellar, signifying the colourful lifestyle of the hotel occupants.
Necessities – everyday items that were used by patrons at the Mistletoe Hotel to service the population boom, such as a clay pipe, ceramic egg cups, silverware, a clay pipe, fob watch, inkwells, bone handle carving knives and perfume bottles.
Gold – items from the Early Gold Rush era owned by wealthy patrons, such as a gold nugget pin.
Glassware – a number of cognac and champagne bottles used at the hotel signify a time of extravagance.
Michael Argyrou, Managing Director of Hickory, said that the Company was proud to reach the "topping out" stage of the project and was excited to see the finished product come September 2018.
"Hickory is very proud to be delivering a high quality, landmark project in Melbourne such as Conservatory. It will no doubt be an amazing place to live, and the owners of these luxury apartments can be rest assured that Hickory will play an active role in maintaining the quality of the development for years to come, not unlike the servicing of a new luxury car.  As a first in the industry, we will be on hand to ensure that owners are able to protect their most valuable asset, and keep their apartments operating efficiently into the future," he added.
The groundbreaking ceremony was jointly officiated by UEM Sunrise's Chairman of the Board, Tan Sri Dato' Sri Zamzamzairani Mohd Isa; Cox Architecture, Principal, Philip Rowe; UEM Sunrise Australia, Head of Operations, Ong Chee Wei; UEM Group's Board of Directors board member, Lim Tau Kien; and PDS Group, Managing Director, Andrew Fortey.
Conservatory offers 446 units of one, two and three-bedroom residences and four generous levels of residential facilities. These include a pool, gymnasium, golf simulator, yoga zone, BBQ pit, entertainment deck, private cinema and two expansive jacuzzis on the Level 42 Carlton Skydeck, with amazing views over the Carlton Gardens.
Limited fully furnished apartment units are still available and Singaporeans are eligible to purchase them. Visit the project website at www.conservatory-melbourne.com.au for more information.
About UEM Sunrise Berhad
UEM Sunrise Berhad ("UEM Sunrise" or the "Company") is a public-listed company and one of Malaysia's leading property developers. It is the flagship company for township and property development businesses of UEM Group Berhad ("UEM Group") and Khazanah Nasional Berhad ("Khazanah"). UEM Group is wholly-owned by Khazanah, the strategic investment fund of the Government of Malaysia.
The Company has core competencies in macro township development; high-rise residential, commercial, retail and integrated developments; as well as property management and project & construction services.
In Malaysia, UEM Sunrise is the master developer of Iskandar Puteri, one of the five flagship zones of Iskandar Malaysia and is currently undertaking the development of the area into a regional city. Upon completion, Iskandar Puteri will become the largest fully integrated urban development in Southeast Asia that will provide significant investment, financial and business opportunities to the economic growth and development of the region.
Gerbang Nusajaya, the second phase development of Iskandar Puteri is a 4,551-acre project which features various developments including Nusajaya Tech Park, Fastrackcity, Melia Residences and Denai Nusantara. Gerbang Nusajaya will be developed over a period of 25 years and will include components such as lifestyle & retail parks, campus offices & industrial parks as well as residential precincts. It is also within easy access of future Transit Oriented Development sites and the High-Speed Rail Station in Iskandar Puteri, connecting Singapore and Kuala Lumpur.
In the Central Region of Malaysia, UEM Sunrise is renowned for its award-winning and up-market high-rise residential, commercial and mixed-use developments largely in the affluent Mont'Kiara international enclave, featuring projects such as 28 Mont'Kiara, Arcoris Mont'Kiara, Residensi22 Mont'Kiara, Residensi Sefina Mont'Kiara and many more. The Company is responsible for introducing the concept of creative retails in Solaris Dutamas, known as Publika.
UEM Sunrise is also developing a 448-acre integrated township of Serene Heights in Bangi that offers life simple pleasures within a nature-inspired environment. This is in addition to Symphony Hills, an exclusive residential in Cyberjaya.  Other projects in the Central Region by UEM Sunrise are located in the Kuala Lumpur City Centre with two joint-ventures in Shah Alam and Seremban.
Internationally, UEM Sunrise's presence extends into Vancouver, Canada via its 4.8-acre completed mixed-use development, Quintet at Minoru Boulevard City.  In Melbourne, Australia, its 92-storey Aurora Melbourne Central is the tallest development in the Central Business District, while the inspiring 42-storey Conservatory located on Mackenzie Street boasts panoramic views over the historic UNESCO World Heritage-listed Royal Exhibition Building and Carlton Gardens. UEM Sunrise's latest launch, Mayfair, located on the prestigious St Kilda Road, heralds ultra-luxurious living with an emphasis on bespoke experiences. In Durban, South Africa, the Company has 30 acres of joint venture beachfront mix development land.
UEM Sunrise is the appointed Project Manager, responsible for development and marketing management of the mega mixed-use developments of Marina One and DUO in Singapore, developed by M+S Pte. Ltd ("M+S").  M+S is jointly-owned by Khazanah and Temasek Holdings Pte Ltd.