(Singapore 10 May 2023) WhatsApp users in Singapore are now able to pay some local businesses via a new in-chat feature, the instant messaging platform has announced.
The new payment feature is built using solutions from Stripe, an Irish-American financial infrastructure platform for businesses.
"Starting today, people in Singapore can pay their local merchants on WhatsApp in just a few taps. This seamless and secure experience will transform the way people and businesses in Singapore connect on WhatsApp," said Stephane Kasriel, head of fintech at Meta.
According to Stripe's press release, customers can pay businesses using credit cards, debit cards, or Singapore's PayNow fund transfer system. The option to enable payments on WhatsApp in Singapore is available to local businesses using the WhatsApp Business Platform, which will include a Stripe account.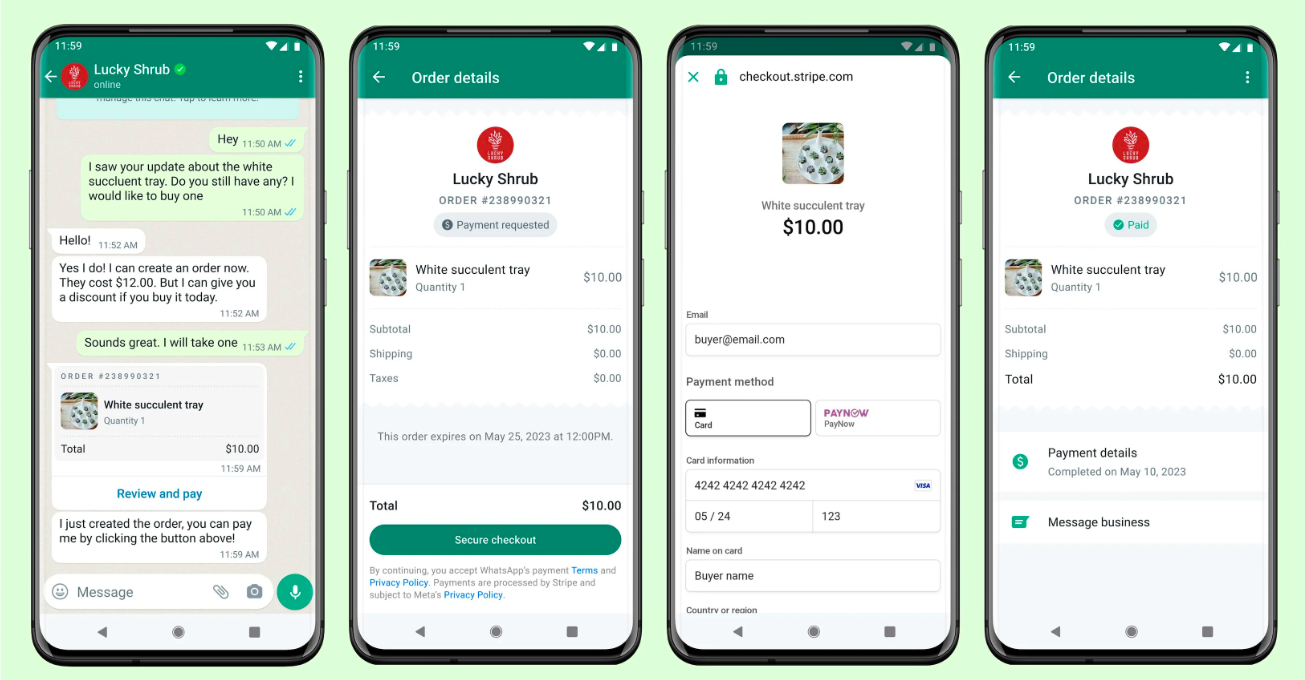 However, the feature is currently available to a small number of Singapore-based businesses and will be available to many more in the coming months.
WhatsApp, an instant messaging freeware and voice-over-IP service owned by US tech conglomerate Meta, is hailed to have 2 billion users worldwide including some 4.5 million in Singapore, though it is generally banned in China.
"Most people I know in Singapore use WhatsApp to chat with each other. Now, they can pay local businesses using the app as well. The speed and convenience of payments through WhatsApp will help businesses expand their revenue streams with new channels and access a wider customer base," said Sarita Singh, regional head and managing director for Southeast Asia at Stripe.
Singapore is the third country where Whatsapp has piloted its payment services.
In 2020, WhatsApp first launched its payment services in India based on the country's Unified Payment Interface (UPI) network in test mode. In 2022, The National Payments Corporation of India allowed Meta to expand the service to 100 million users.
Last month, WhatsApp also launched merchant payments in Brazil, after allowing peer-to-peer payments for nearly three years.
Given that WhatsApp doesn't have subscription fees or ads, its business offerings are the marquee method for Meta to earn money from the app. Next month, WhatsApp will also switch from a notification-based pricing system to a conversation-based pricing structure for usage of its Business services.
(Cover Whatsapp rendition: Godline Art)