(Shanghai, July 22, 2020) Although the one-year-old Shanghai STAR market is a long way short of Nasdaq — which lists stocks such as Apple and Amazon, it is gaining traction.
According to Refinitiv, it is second behind Nasdaq in terms of the value of IPOs and secondary listings this year, attracting 17.3% of the total issuance and narrowly surpassing Hong Kong.
On Monday, Cambricon Technologies Co, a chip designer specializing in artificial intelligence technologies, surged 230 percent in its first trading day on STAR, following an IPO of 2.58 billion yuan (S$510 million)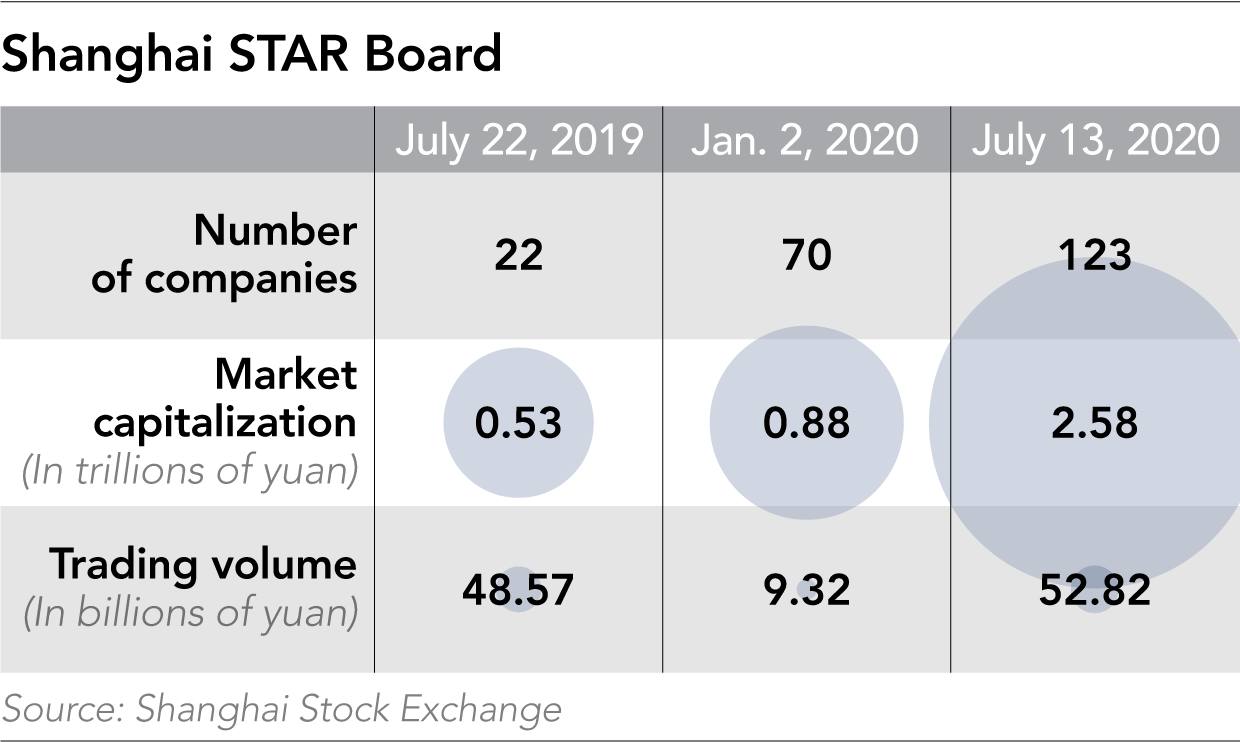 Last Thursday, Giant chipmaker Semiconductor Manufacturing International Corp (SMIC) was listed with its share price surging 202 percent on the first trading day. That makes it the biggest company by market value on STAR.
SMIC is also listed on Hong Kong's "red chip" index, exemplifying the goal that STAR Market would entice offshore-listed companies to seek domestic listings.
Besides, Alibaba's financial and payment affiliate Ant Group announced it is taking steps toward a dual listing on the STAR Market and the Hong Kong bourse. It is expected to become the largest IPO this year.
Proposed by President Xi Jinping during the trade war with the US in 2018 to give local startups an alternative to listing abroad, STAR has clear political and strategic intentions.
It supports the "Made in 2025" blueprint, Beijing's ambition for self-sufficiency in strategic sectors, especially semiconductors and artificial intelligence.
As of July 10, STAR had received applications from 404 companies and listed 123, raising a total of 138.49 billion yuan.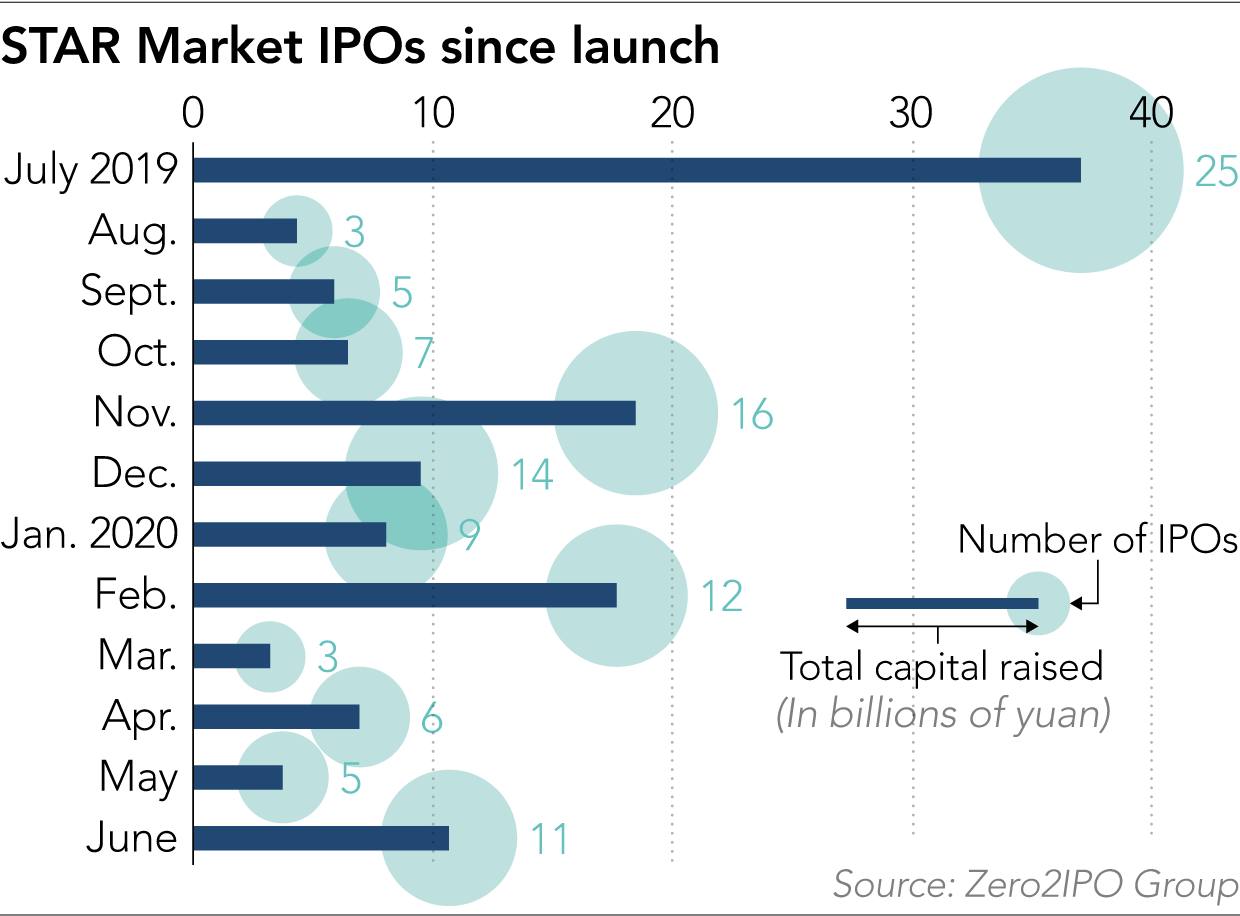 So far, the STAR board's trading volume has risen more than fourfold through July 13, more than the Shanghai main board's 119%. The average P/E ratio has reached 109, higher than domestic peers on Shanghai's main board and in Hong Kong.
Unlike other Chinese markets, where a company's share price at IPO is capped at 23 times earnings to prevent volatility, STAR-listed companies don't have such limits.
Nor do they have limits on share price movements for five days after debut. Instead, they can determine IPO prices based on book-building roadshows.
As Washington and Beijing have been drifting apart, and Chinese companies listed in the U.S. come under increased regulatory scrutiny, STAR provides another venue for businesses to raise capital, one where they are much less likely to fall foul of regulators.
Some analysts are afraid the Chinese stock exchanges still fall short of international standards.
In May, the US Senate passed a bill that will require Chinese companies listed in the US to comply with stiffer audit regulations. President Donald Trump's administration is threatening to delist those that refuse to comply.
Earlier this month, the former Nasdaq-listed Chinese company Luckin Coffee, which was launched in 2017 and raised US$561 million in its initial public offering less than two years later, was delisted on Monday.
It was found the fabrication of sales traced back as early as April last year. What's more, its 2019 costs and expenses were also found to be inflated by 1.34 billion yuan.
Similar fraud accounting problems are widely suspected among China's listed companies both in the mainland and overseas.