(Singapore 23 May 2023) Despite Ukraine President Volodymyr Zelensky's surprise visit to the G7 summit in Japan on Saturday, the bulk of business in the summit has been focused on Beijing's growing assertiveness in a slew of issues.
Zelensky rebuked supposedly neutral countries India and Brazil, accusing them of being duped by Kremlin propaganda while repeating his calls for access to US fighter jets, which US President Joe Biden agreed on Friday to allow European allies to supply to Kyiv.
The G7's regular members include the US, the UK, Italy, Canada, France, Germany, and Japan. To broaden the bloc's Indo-Pacific leadership credentials, G7 also invited the leaders of India, South Korea, Australia, and the Cook Islands to join the summit, besides Zelensky.
G7 leaders announced new sanctions and issued a statement that says "Our support for Ukraine will not waver".
However, the bulk of business in Hiroshima was focused on China.
British Prime Minister Rishi Sunak deemed China "the greatest challenge of our age" for global security and prosperity, remarking that President Xi Jinping's government was "increasingly authoritarian at home and abroad."
They issued a statement urging Beijing "not to conduct interference activities" and expressed concerns about alleged human rights abuses in Tibet and Xinjiang.
Also, The leaders of the world's richest democracies reiterated their support for Taiwan—the self-ruling island that China considers its sovereign territory—and said that they were "gravely concerned" regarding Beijing's inroads in the Indo-Pacific.
The US Secretary of State Antony Blinken was scheduled to sign a new security pact with Papua New Guinea in Port Moresby in what's seen as a clear attempt to offset China's growing regional influence.
China's state-backed Global Times has called the G7 an "anti-China workshop" after Beijing summoned Japan's envoy and berated Britain in a fiery response to statements issued at the group's summit in Hiroshima.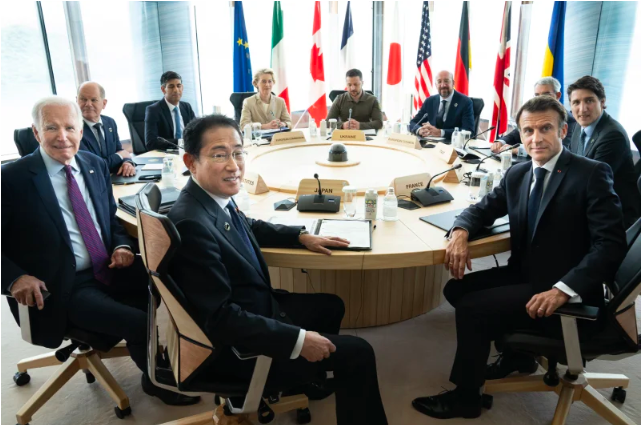 The Chinese mouthpiece also called the G7 an "anti-China workshop" on Monday, a day after Beijing summoned Japan's envoy and berated Britain in a fiery response to statements issued at the group's summit in Hiroshima.
"The U.S. is pushing hard to weave an anti-China net in the Western world," Global Times said in an editorial on Monday titled "G7 has descended into an anti-China workshop".
"This is not just a matter of brutal interference in China's internal affairs and smearing China, but also an undisguised urge for confrontation between the camps."
According to a Reuters report, the main G7 leaders' communique mentioned China 20 times, the most in recent years, and up from 14 mentions in 2022.
Chinese Vice Foreign Minister Sun Weidong summoned the ambassador to register protests over "hype around China-related issues", the ministry said in a statement.
However, China's decision to summon Japan's ambassador caused Japan's backlash.
Japan's ambassador to China, Hideo Tarumi, said it was "natural" for the G7 to refer to issues of common concern as it has done in the past and will continue to do so in the future as long as China does not change its behavior, according to a readout.