Hong Kong, May 23, 2018 – – Mobile blockchain OS developer Zippie Ltd. and global smartphone and IOT device producer BORQS (NASDAQ: BRQS) have partnered to jointly offer a blockchain phone reference design to hundreds of smartphone brands globally.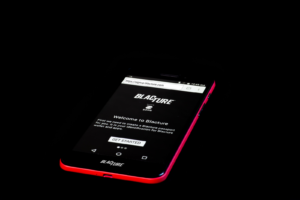 Zippie is a blockchain technology company specialised in building an easy to use mobile experience for the decentralised internet. Zippie's solution offers its partners an opportunity to build a user centric smartphone business model, where users are rewarded. Borqs, listed in Nasdaq, is one of the fastest growing IOT and smartphone companies in the world. Together Borqs and Zippie are now able to offer a blockchain smartphone reference design to hundreds of device brands globally.
In the US market Zippie and Borqs have partnered with Blacture, founded by Emmy and and Grammy award winning entertainer and humanitarian, Pras Michel. Blacture is the first smartphone vendor to utilize the reference design and is delivering the first blockchain phone to the US market. With Blacture phone users earn rewards for online purchases, sharing information and offering products and services to the community. Rewards accrue in a secure digital wallet, in the form of tokens. Tokens have a corresponding dollar value, which can then be used for online or offline transactions via a debit card, which comes with the phone. For Blacture, Zippie provides the blockchain software solution, and Borqs provides the smartphone hardware.
Recently HTC and Sirin labs announced a single blockchain based smartphone offering – Zippie and BORQS are first to offer a smartphone reference design available for all device brands making it easy and fast to take to the market.
Antti Saarnio, CEO of Zippie comments: "The smartphone industry today is super competitive, and many brands are struggling to differentiate. Our blockchain powered smartphone gives them an immediate opportunity to offer something totally different to the market, something which is not based on user data collection, but rewarding users and giving data ownership back to the users."
George Thangadurai, EVP & President of International Business for Borqs, comments: "We are delighted to be Zippie's partner to deliver smartphone reference designs with their blockchain technology. Borqs has a proven record of delivering innovative new technologies in our customer's products, enabling rapid commercialization and scale. In partnership with Blacture & Zippie, we look forward to deliver the blockchain smartphone. Borqs has immense experience delivering robust implementations of security technologies in smartphones and is well positioned to drive Zippie's blockchain technology adoption globally. "
Enter the blockchain world in 20 seconds
The key advantage of Zippie's blockchain phone solution is that it makes it very easy for users to onboard the blockchain. Entering the blockchain and cryptocurrency world is currently very difficult and complicated for non-technical consumers. You need to create a digital identity, manage private keys, manage your digital wallet, download browser plug-ins and so on. Zippie has successfully simplified the onboarding process so that the user does not need to know or manage such things like private keys or public keys or downloading web 3 plug-ins. The blockchain can only be used widely by consumers when it is simple and easy to use.
Zippie's 20 second onboarding solution helps also different blockchain based applications to get normal consumers to become their customers. Zippie demonstrated its onboarding solution last weeks Thursday at a New York Blockchain week event, which Zippie sponsored together with Ethereum foundation, and some leading blockchain projects like Cosmos, Omisego, Golem, and Status.
Decentralised app (Dapp) partners: Streamr, Dbrain and Etherbots
During New York Blockchain week Zippie established partnerships with three blockchain solution partners with whom it will be working with to bring new features to its blockchain OS. Zippie is working together with data marketplace Streamr, AI learning project Dbrain, Blockchain strategy game Etherbots.
The blockchain phone concept is really undefined until the unique decentralised features are clearly defined. Otherwise the blockchain phone is just a buzz word.
Antti Saarnio continues: "The key question is: what additional value will the blockchain phone offer. Zippie works closely with carefully selected quality blockchain projects to build those features. With Streamr we can build solutions, which give control to people over their data, but also give them a chance to be rewarded for sharing the data they want to share. With Dbrain, blockchain phone users can earn rewards for teaching AI. With Etherbots we can introduce token based assets into gaming.
"This is only the very beginning, we will need lots of application partners to jointly build the blockchain phone user experience. This project is also very important to the blockchain industry, as the whole industry has to bring its technology solutions to the level where normal consumers can benefit from it."