(6 July 2023, Singapore) Her Times, an arm under the Fortune Times Group, conferred the 4th Her Times Women Empowerment Awards to five outstanding women today.
The awarding ceremony was held at the Indonesian Embassy in Singapore. Before the ceremony, the organizer hosted a forum centered around the theme "Women's Influence in City Transformation".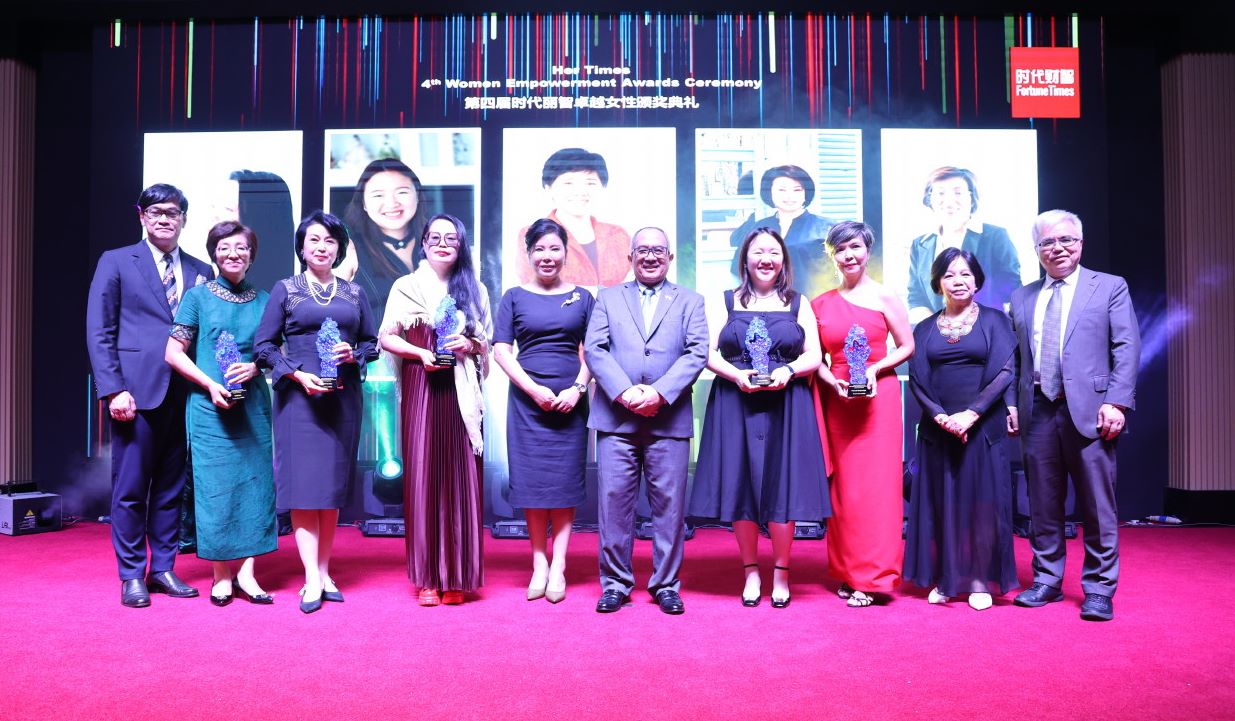 The five winners, including two entrepreneurs, two business executives and one philanthropist, received their award in five respective categories. They are namely Youth Award, Excellence Award, Innovative Cultural Promotion Award, Philanthropy Award and Achievement Award Winner.
In 2017, on the 50th anniversary of diplomatic relations between Singapore and Indonesia, Her Times, Singapore's leading female Chinese business magazine under the Fortune Times Group, launched the inaugural "Her Times Women Empowerment Award" (WEA) with the support of the Indonesian Embassy in Singapore. So far, 38 women have received the honor during the previous three sessions.
The WEA aims to recognize exceptional women who have made significant contributions in the fields of education, business, society, and philanthropy in Singapore, Indonesia, and other ASEAN countries. Besides their remarkable achievements, the winners are also dedicated to improving women's lives in areas such as education, healthcare, and social development. With Indonesia assuming the rotational Chairmanship of ASEAN in 2023, Fortune Times sees this as an opportunity to extend the reach of Women Empowerment beyond Singapore and Indonesia to the rest of ASEAN. The commitment remains to empower women to become valuable contributors to sustainable economic growth, political stability, and the building of harmonious societies.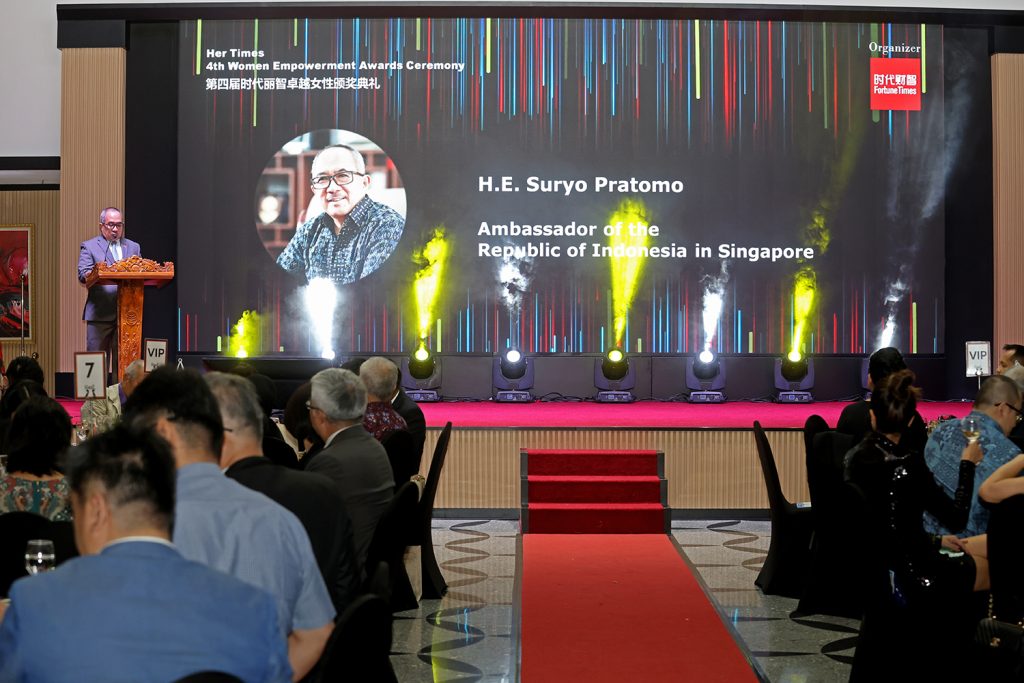 H. E. Suryo Pratomo, Indonesian Ambassador to Singapore, said at the award ceremony: "Promoting gender equality and women's empowerment is the top priority of our embassy, because it is very important to promote social prosperity and life harmony. Her Times Women Empowerment Awards is outstanding More than just an award, WEA recognizes the work and dedication of outstanding women in Singapore and Indonesia, while also recognizing their outstanding contributions to making real difference to women and girls and strengthening the bilateral relationship between the two countries."
Gracing the Her Times Women Empowerment Forum and Awards Dinner, there were 200 representatives of enterprises from Singapore, Indonesia, China and the region; representatives of chambers of commerce, and important diplomatic envoys of ASEAN countries including:  H.E.Suryo Pratomo, Ambassador of the Indonesian Embassy in Singapore; H.E. Dato' Dr Azfar Mohamad Mustafar, Malaysian High Commissioner to Singapore; H.E. Sok Khoeun, Ambassador of the Kingdom of Cambodia to Singapore; H.E. Sengkeo Pouangpadith, Ambassador of Lao PDR to Singapore;Mrs Chonlatee Chanrachakul, Minister and Deputy Chief of Mission, the Royal Thai Embassy in Singapore.
The five winners of 4th Her Times Women Empowerment Awards are:
In conjunction with the Women Empowerment awards, we are privileged to host a thought-provoking forum centred around the theme "Women's Influence in City Transformation." This significant discussion highlight women's indispensable involvement and participation, especially in the face of challenges during city transformation, which discussion cover from design thinking, female diplomats' mindsets, tech innovation to constructing a women-friendly city.
The panel is moderated by Annie Song, the editor-in-chief of Fortune Times. The panelists Ms Hastin Dumadi, Minister Counsellor, Economic Department, Indonesian Embassy in Singapore; Ms Daliana Suryawinata, Director and Founder, SHAU Netherlands & Indonesia;Mr Lien Choong Luen, General Manager, Gojek Singapore.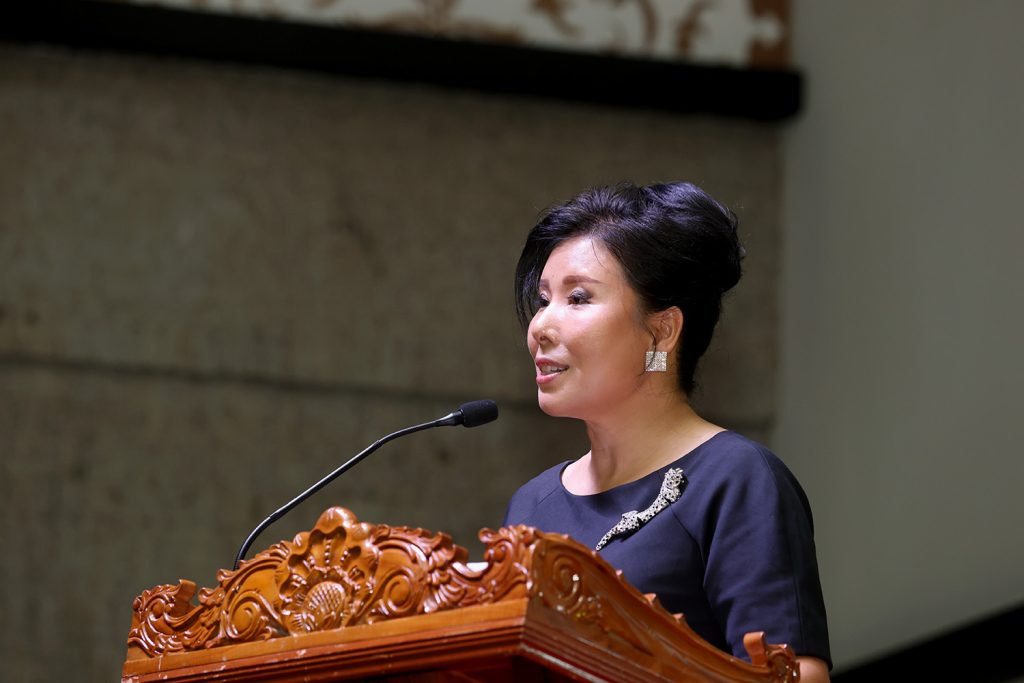 Annie Song, Editor-in-Chief of Fortune Times, said: "As a leading Chinese business media in Southeast Asia, we also recognize the significant role of women in family succession. At end of this year, we will launch a new platform called Family Fortune Times, which will cater to some 1000 family offices and ultrahigh-net worth individuals in Singapore and the region."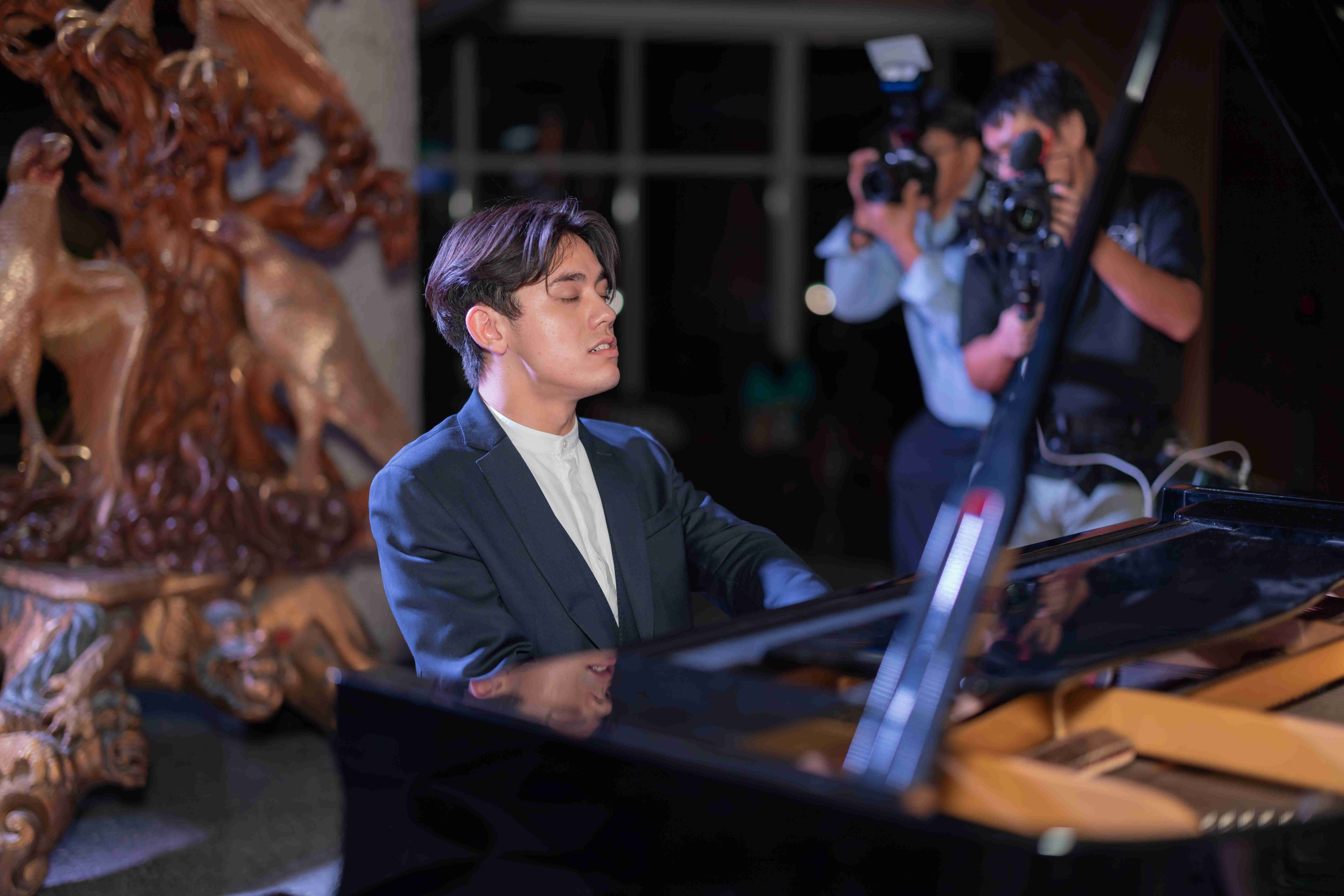 While the award ceremony marked a truly momentous occasion to witness an illustrious journey of women empowerment, the organizer specially invited George Harliono, British concert pianist of Indonesian descent, to perform. Apart from that, Mr Dani Wisnu Dumadi, as a tenor from Indonesia sang the classic old song "Women's Flower" in Chinese, which fully interpreted the beauty and empowerment of women.
2023 4th Her Times Women Empowerment Award Winners and their Profiles
1. Youth Award Winner: Cindy Karim: Founder and CEO of CK Star Entertainment
Cindy Karim is a serial entrepreneur dedicated to bringing a diverse range of cultures to Singapore and Southeast Asia. She established CK Star Entertainment in 2018. The company focuses on concert promotion and family entertainment in the Southeast Asian region. To date, CK Star has organized over 50 concerts across the region. Besides, she also owns eight restaurants in Indonesia and six more in the works. Recently, she has opened her first Japanese restaurant in Singapore.
In addition to her entrepreneurial ventures, Cindy serves as a director in the Karim Family Foundation (KFF), a philanthropic organization active in supporting sports, education, and arts initiatives in Singapore and Indonesia.
Cindy Karim wins Youth Award from the 4th Her Times Women Empowerment Awards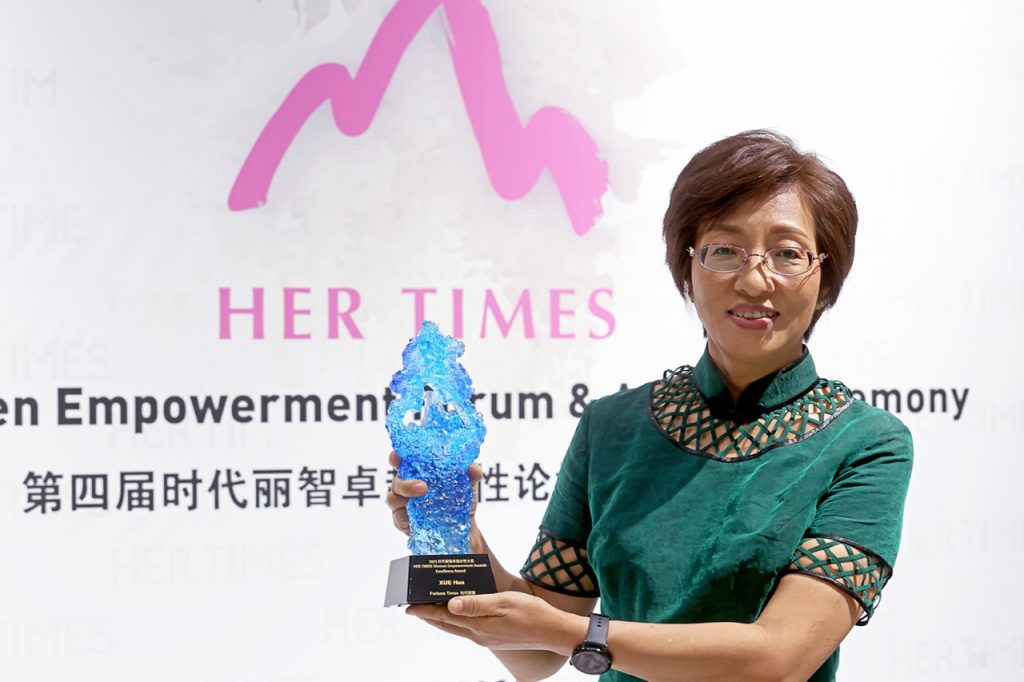 Having worked in Southeast Asia for Chinese company Weichai Power for 26 years, Xue Hua has demonstrated exceptional leadership and strategic acumen in driving the company's success in the Asia Pacific region.
Despite the challenges posed by the Covid-19 pandemic, Weichai Power experienced a remarkable increase in exports, amounting to RMB 32.8 billion (S$6.1 billion) from January to May 2023. This figure reflects an impressive year-on-year growth of 87% compared to the total export volume of RMB 54.1 billion in 2022.
Xue is responsible for Weichai in the entire Asia-Pacific region, including the ten ASEAN countries, Japan, South Korea, Australia, New Zealand, and Taiwan. She is actively contributing to supporting the development of sustainable energy, data centers, and agriculture in Singapore and the rest of Southeast Asia.
Xue Hua Wins Excellent Award from the 4th Her Times Women Empowerment Awards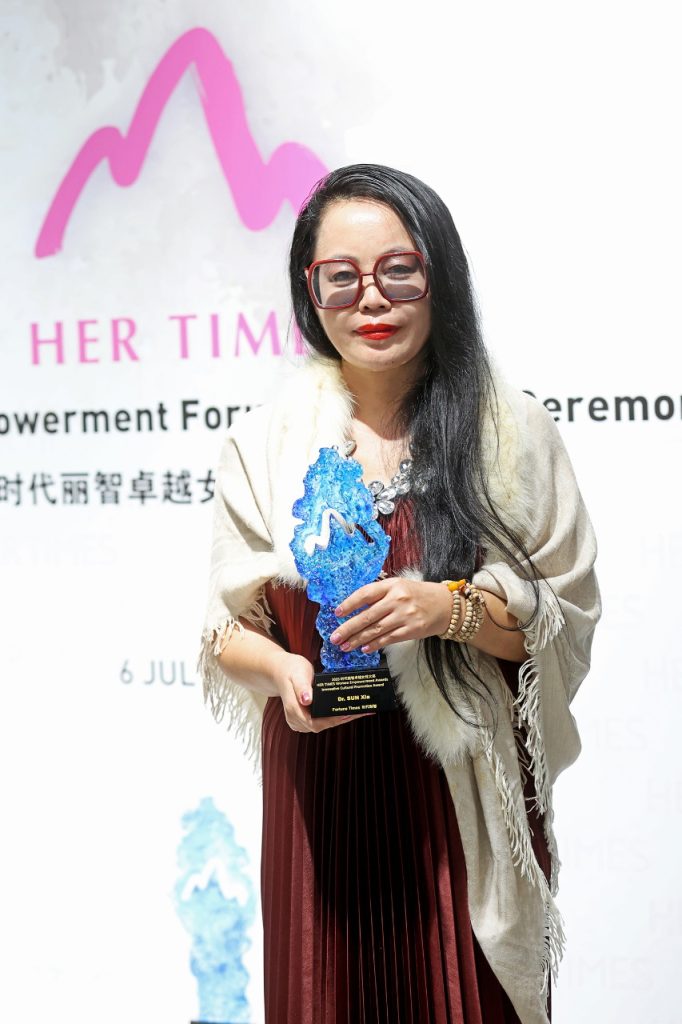 Dr. Sun Xia is an entrepreneur and writer. As an entrepreneur, Dr. Sun has managed business ventures in the oil and gas extraction industry for many years, gaining experience in investing and operating numerous oil fields both domestically and internationally. In 2016, she founded the Singapore Nanyang International Club which is an elite platform composed of entrepreneurs from NTU China Alumni who are committed to introducing Singapore's outstanding models to China and creating opportunities for Chinese enterprises to develop the Singapore market.
As a writer, under her pen name Ling Dang, Dr. Sun is an Honorary Chairman of the Authors Association of Singapore, as well as a member of China's Authors Association. She is also the President of the Hong Lou Dream Society in Singapore, an organization that studies and promotes "Dream of the Red Chamber," one of the four great classical novels of Chinese Literature.
Dr. Sun Xia wins Innovative Cultural Promotion Award from the 4th Her Times Women Empowerment Awards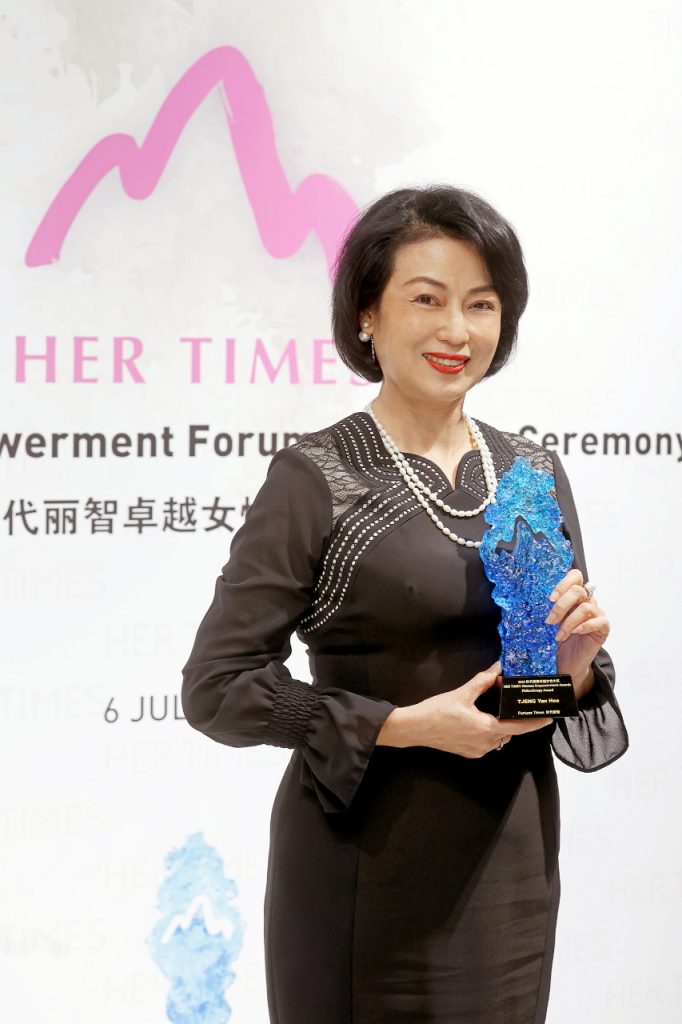 Tjeng Yan Hoa is an Indonesian philanthropist who has dedicated much of the past two decades to improving the well-being of thousands of underprivileged African children.
In 2012, she took the initiative to establish Amitofo Care Center (ACC) in Singapore. ACC is an international non-government organization that provides various forms of assistance and support, including food relief, health screenings, and education, to African children who have lost their parents due to poverty, war, natural disasters, and AIDS. It also helps the needy people in Singapore.
Thanks to her diligent and committed work in charity, ACC now operates seven campuses in six countries, including Malawi, Lesotho, Eswatini, Namibia, Mozambique, and Madagascar, have provided support to over 1800 African children.
Furthermore, over 30 children who received ACC's assistance six years ago have successfully gained admission to universities in Taiwan, mainland China, and Malaysia, with 17 having graduated.
Tjeng Yan Hoa wins Philanthropy Award from the 4th Her Times Women Empowerment Awards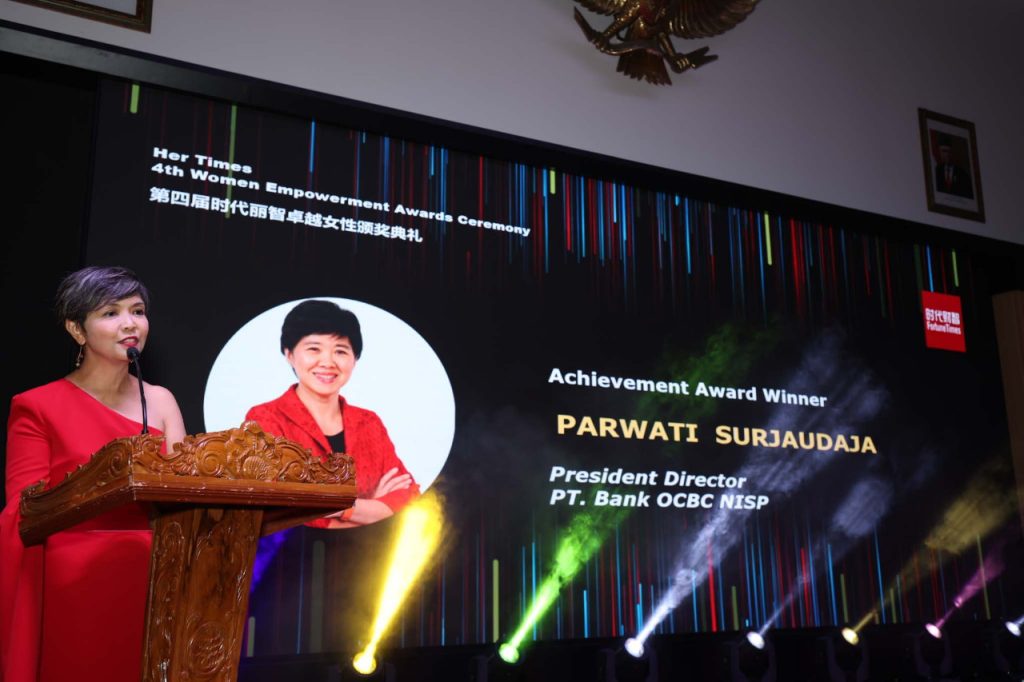 Parwati Surjaudaja is a seasoned banking professional with over 30 years of experience, has held the position of President Director at PT. Bank OCBC NISP since 2008. Bank OCBC NISP stands among the top 10 banks in Indonesia and has garnered one of the highest credit ratings in the country.
Parwati Surjaudaja has been a pioneer in driving Environmental, Social, and Governance (ESG) initiatives in the region, particularly through the implementation of green and gender financing. Her unwavering dedication to these initiatives resulted in Bank OCBC NISP becoming the first bank in Indonesia to receive the Green Financing from IFC in 2018 and the sustainability bond for green and gender in 2020. Parwati's leadership in Indonesia's banking industry has garnered recognition. She was honored as one of Forbes Asia's Top 50 Asia's Power Businesswomen in 2016 and named Fortune Indonesia's Businessperson of the Year in 2021.
She hosts the YouTube and Spotify channels "#TAYTB With Me," where she promotes continuous learning and inspires others with her insights and expertise.
Parwati Surjaudaja Wins Achievement Award from the 4th Her Times Women Empowerment Awards