Singapore, 10 Jan 2018 – Singapore's property market came in as the most promising one among Morgan Stanley Research's rankings of Asean markets which include the Philippines, Thailand and Indonesia.
So bullish is the research house on the Singapore market that it actually expects home prices to rise 8 per cent this year and again in 2019, as rising buyer demand outweighs a tight supply of unsold inventory.
It also expects new home sales growth to accelerate from 40 per cent in 2017 to nearly 50 per cent in 2018, as a buoyant collective sale market drives up home buyer demand while reducing the supply of available units to purchase.
"As a result of a surge in en bloc activity, fewer units available for sale in the secondary markets will channel more home buyers to the primary market, driving take-ups for newly launched projects," it said. "In Singapore dollar terms, we forecast presales growth of close to 50 per cent for 2018, the highest among Asean property markets we cover."
Morgan Stanley's top Singapore developer stock pick is City Developments (CDL), which it sees as the best proxy to the sector upturn. CDL also has the largest land bank among the developers that it covers.
There is also scope for its revalued net asset value (RNAV) estimate to increase should the offer for its London-listed subsidiary Millennium & Copthorne complete successfully.
Morgan Stanley also believes that investors have not priced in the impact of the property market upcycle on CDL as the stock still trades at a discount to RNAV. It added that the developer also has the largest earnings exposure.
"We estimate that a 5 per cent rise in Singapore residential average selling prices lifts CDL's 2018 earnings per share (by) 11 per cent, compared to 1-5 per cent for peers CapitaLand and UOL."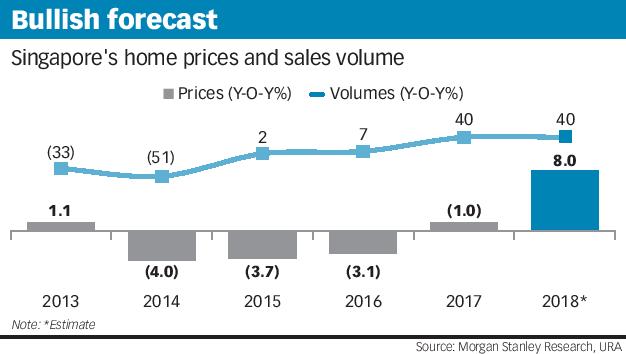 For CapitaLand, the research house expects its more intense pace of asset recycling to drive its share price to above book value.
CapitaLand has said that it is gunning for a return on equity of 8 per cent. Last week, it disposed of 20 malls in China, mostly in Tier-3 cities, for 8.37 billion yuan (S$1.71 billion) as it continues to reshuffle its portfolio.
As for UOL, Morgan Stanley thinks that the developer has been "astute" in timing its land acquisitions and building up its land bank to the equivalent of three years of its historical rate of home sales in Singapore.
A possible catalyst for the stock could be further progress in simplifying its group structure, especially following the close of its offer for Singapore Land shares, and gaining of statutory control over its 50-per-cent owned Singapore-listed subsidiary United Industrial Corp.
Or it could come from unlocking value from its large commercial portfolio through divestments and redevelopment projects, Morgan Stanley said.
BT