(Singapore 26 April 2023)   Beginning from July, local maritime practitioners — such as yacht owners and vessel operators — will be able to enjoy a new 5G-powered telemedicine service that features no-lag virtual consultation and drone-based medication delivery, M1 and Fullerton Health jointly announced today.
In a press conference held on a yacht this morning, M1, one of Singapore's major mobile network operators, announced its partnership with Fullerton Health, a vertically-integrated healthcare platform to introduce 5G-enabled telemedicine services for the maritime sector.
The services will make it possible for seafarers working onboard vessels out in the sea to receive live teleconsultations with shore-based healthcare professionals and 5G-enabled drones to deliver medicine to ship crews from the shore as long as they are connected to M1's 5G network.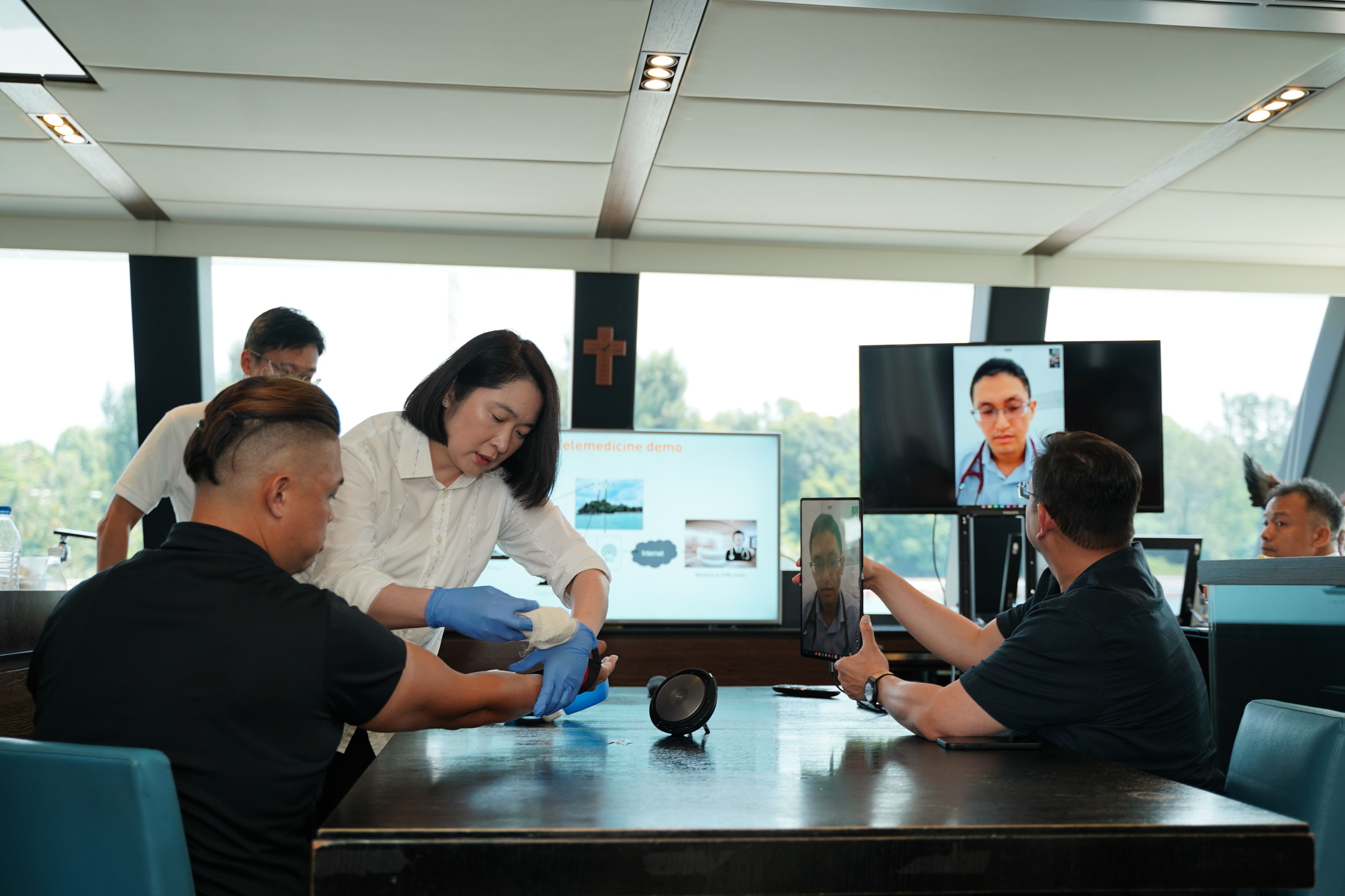 The price for the service is not known. Nor did M1 and Fullerton give an estimate of how many of Singapore's some 5,000 maritime companies would become their customers. 
"Demand comes after technology… M1 continues to double down on our efforts to co-create and introduce viable 5G-enabled commercial solutions to further revolutionize Singapore's maritime operations and make Maritime 5G a reality, " said Manjot Singh Mann, M1's CEO.
M1, a subsidiary of Keppel Corporation, is Singapore's first digital network operator, providing a suite of communications services, including mobile, fixed line, and fiber offerings, to over two million customers, according to M1.
Dr. Faizal Kassim,  Fullerton Healthcare's Medical Director of Primary Care & Clinical Quality & Governance, told Fortune Times that after the service is officially launched in July, it will take around three hours from consultation to the arrival of medication. Currently, that process takes an indefinite amount of time and sometimes causes safety concerns. 
In today's demonstration, it took about ten minutes for a drone taking off from St. John's Island, which is in the Straits of Singapore located some 6.5 kilometers off the city state's south coast,   to reach a yacht in nearby Singaporean water, dropping off medicine package onto the vessel.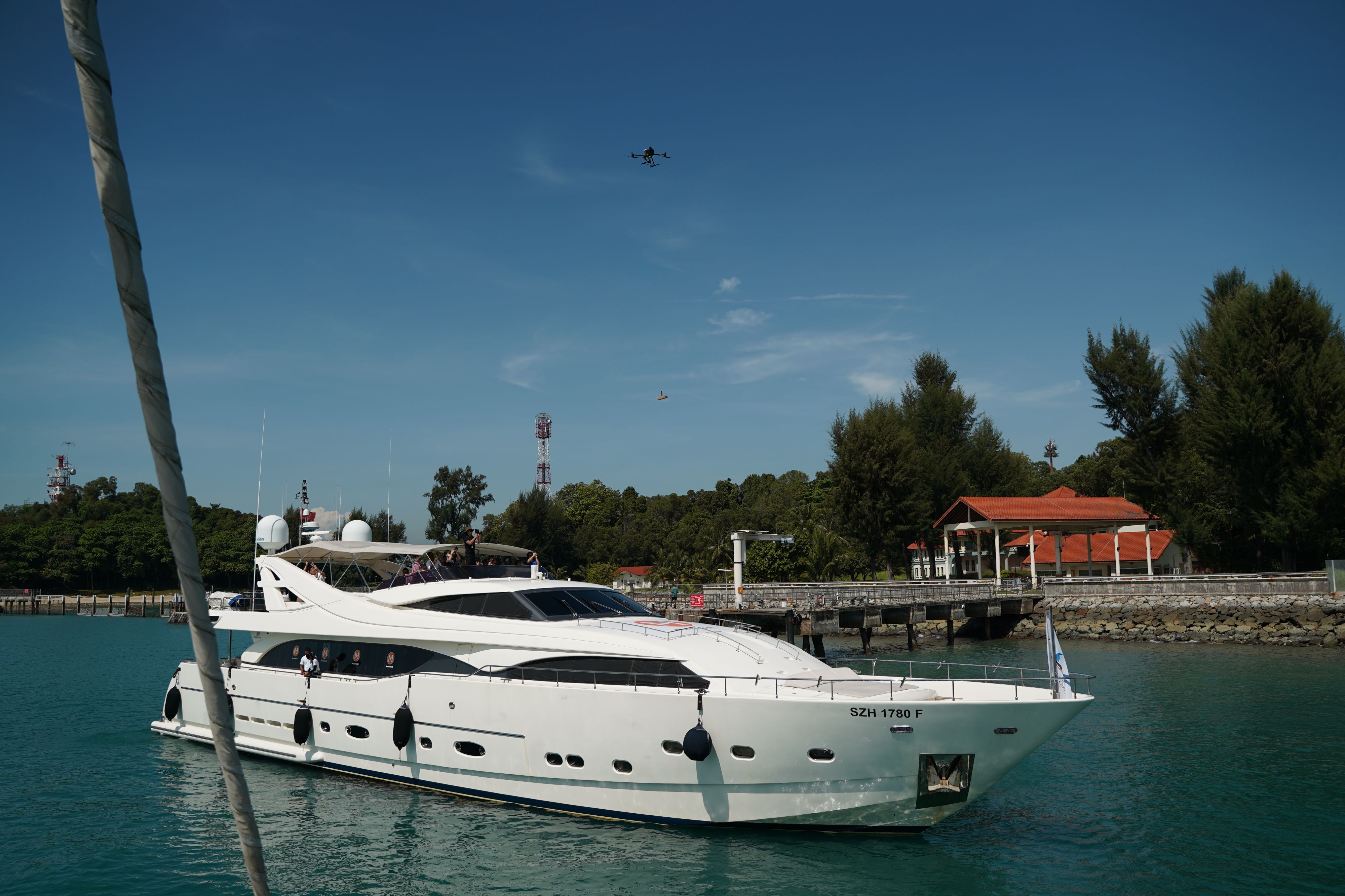 M1 officials said this marks the next phase of M1's 5G journey as part of its broader plans to provide ubiquitous 5G standalone (SA) offshore coverage for the Southern Coast of Singapore.
5G standalone is an implementation of 5G that solely uses a 5G core network without dependency on 4G network control functions, for signaling and data transfer.
5G, which refers to the 5th generation mobile network, is a new global wireless standard, enabling a  smoother network with way less latency than the currently widely adopted 4G.
"We welcome more companies to work with us to further boost Singapore as a leading regional hub for 5G innovation," said Mr. Kiren Kumar, Deputy Chief Executive Officer, Development, IMDA.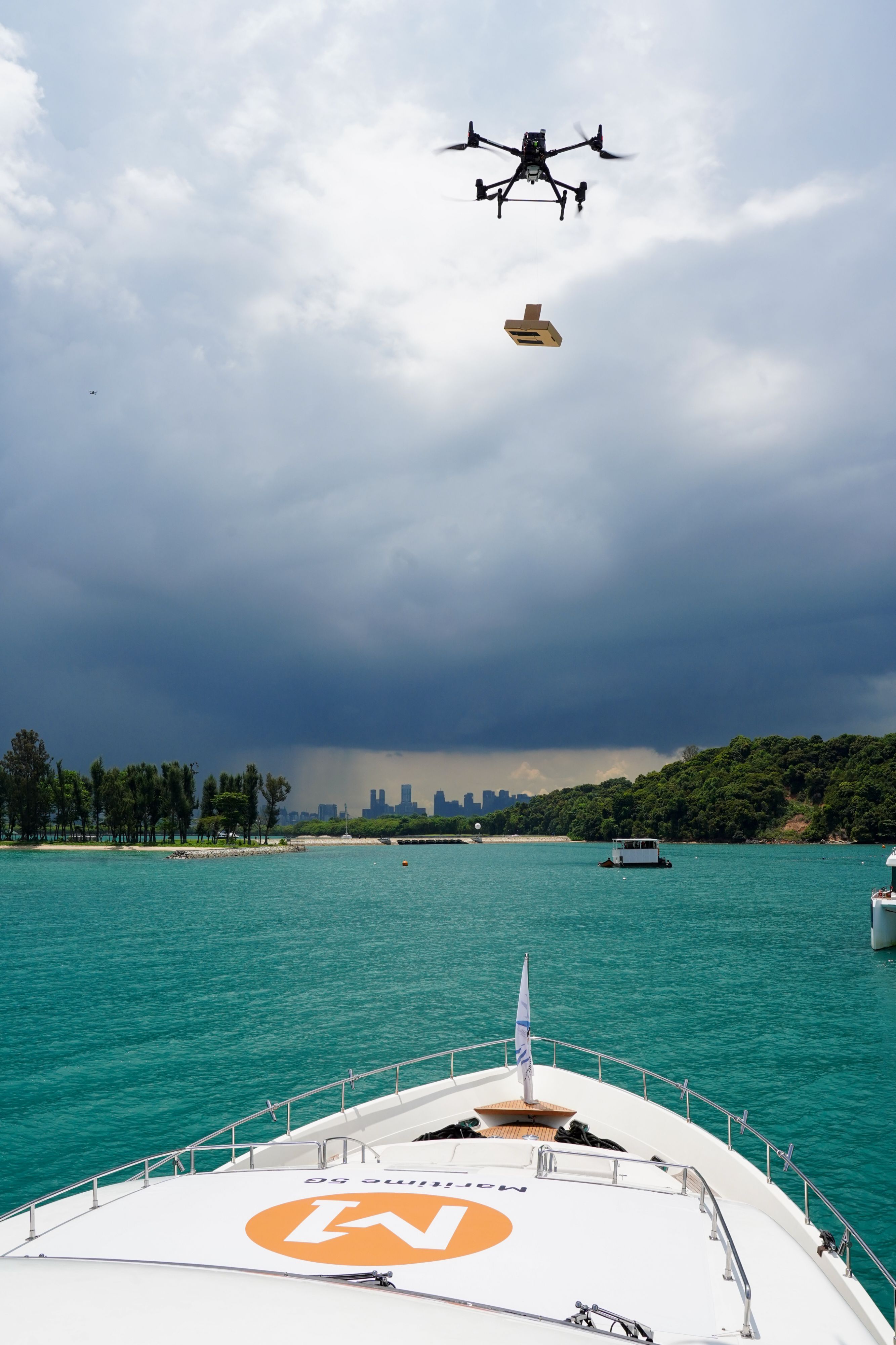 Also today, M1 launched 5G-powered maritime surveillance for onboard security as part of its SMARTsecure solution offerings. With 5G connectivity offshore, vessels out at sea will now be able to set up real-time video surveillance systems and receive seamless footage as they would have on land.
The maritime industry is viewed by experts as a critical pillar of Singapore's economic development, contributing 7% of the nation's GDP.
By 2025, Singapore will reportedly achieve full maritime 5G coverage over its anchorages, fairways, terminals, and boarding grounds. M1 has been a dedicated 5G network that has been rolling out progressively across Singapore's port waters since late 2022 and serves as a testbed to pilot and commercialize maritime 5G use cases.
According to forecasts from GlobalData, mobile data service revenue will increase at a CAGR (the compound annual growth rate) of 7.2% between 2022 and 2027 and will be driven by the growing consumption of mobile data services. In 2027, 5G will drive Singapore's mobile service revenue to over US$2.1 billion, some 0.7% of Singapore's GDP in 2021.
However, the price pressure, according to the government regulator, will be damaging for telecom operators in the city-state, where mobile penetration is at around 164%%.
Analysts say Singtel and a StarHub-M1 joint venture have been running the two 5G networks in Singapore while Simba, formerly TPG Telecom, has also obtained a 5G licence.