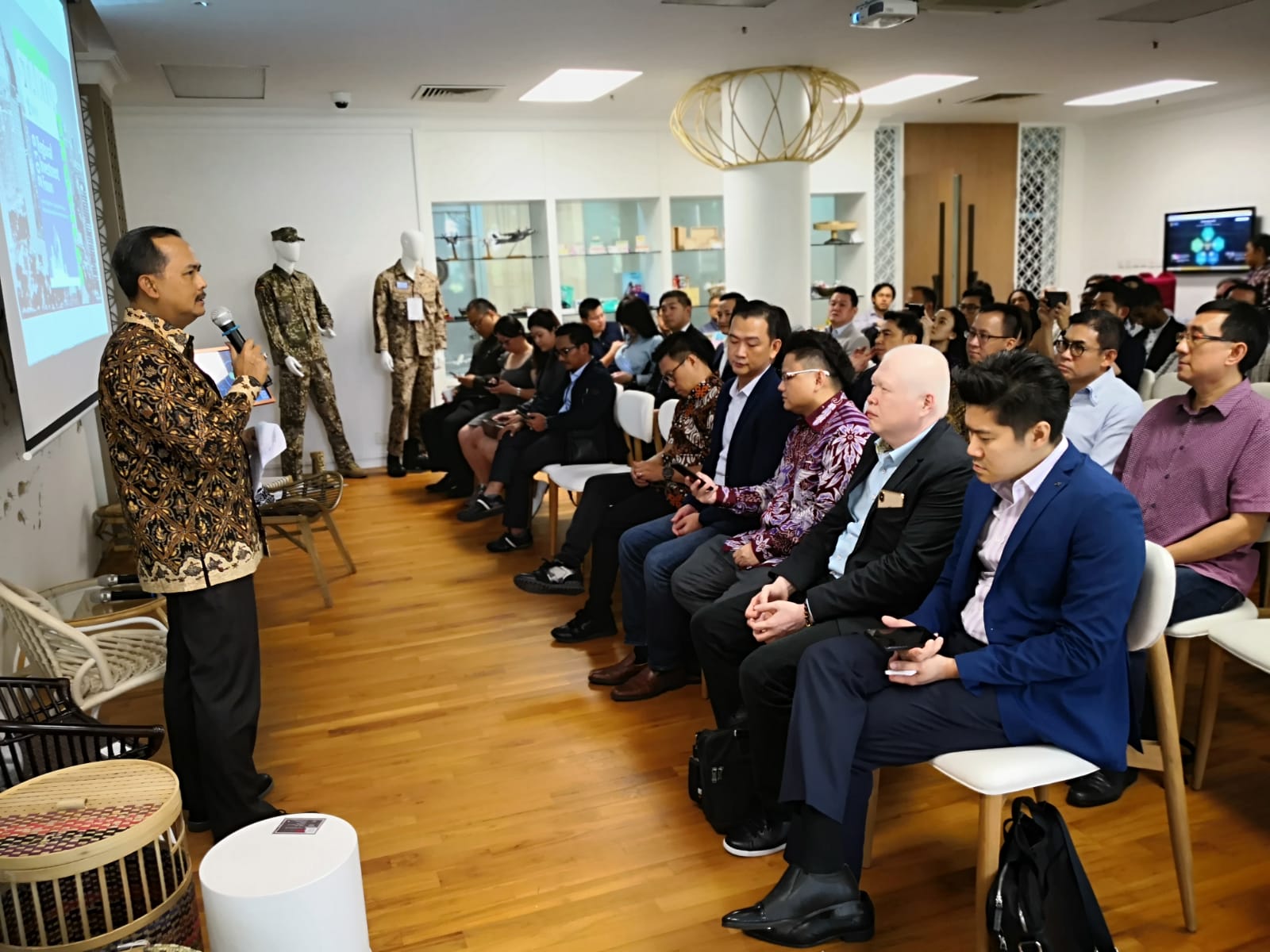 (Singapore, Feb 21, 2019) This Wednesday, a total of 59 investors, venture capitals and startups attended the discussion of "Indonesia 101: The State of Indonesia Digital Ecosystem" along with the Indonesian Ambassador to Singapore Ngurah Swajaya, Co-Founder of East Ventures, Willson Cuaca and Chairman of Singapore Fintech Association Chia Hock Lei, at the Indonesian Embassy in Singapore.
During the opening, Indonesian Ambassador to Singapore, Ngurah Swajaya opened a discussion by conveying Indonesia's digital economic potential which is currently still the largest in ASEAN with 4 unicorn techs from only around 7 in ASEAN. Ambassador Ngurah also invited venture capital (VC), and investors to participate in the Regional Investment Forum, March 11 in Jakarta and explore investment opportunities in the digital economy in Indonesia. "Indonesia's creativity and young talent is the main factor for the growth of 4 unicorns from Indonesia that have been developed by young talents which currently has an economic valuation above US $ 1 billion." according Ngurah. "In addition, the Indonesian Government's strong commitment to improve conducive conditions, especially" ease of doing business "for investments and ecosystems that support investment in the startup sector and the digital economy.", he continued.
Ambassador Ngurah's statement was reinforced by testimony given by Willson Cuaca who had invested and participated in the growth of several unicorns in Indonesia, since 2010. "Indonesia has a very good ecosystem for startup development, not only because of the many problems that startups can explore and improved with digital applications, but also a promising market followed by good talents growth and increasingly favorable regulations for startups business "he said. "This makes Indonesia as one of the countries in ASEAN that is very attractive at this time and in the future," he continued. Some Indonesian unicorns have even penetrated into ASEAN countries by utilizing the ASEAN Economic Community with more than 600 million residents.
Meanwhile Chairman of the Singapore Fintech Association, Chia Hock Lai, who will soon be launching coding school for fintech and blockchain, also attended the event accompanied by Chairman of Nongsa Digital Park, President of Citramas Group, Kris Wiluan, CEO of Glexindo, Hadi Lee, a trade export apps, along with several top venture capital, investors and Singaporean startup.
The total investment of Singapore to Indonesia during 2018 has increase by 9.1%, or USD 9.2 billion, and this again puts Singapore as the biggest investor in Indonesia.
Chairman of the Singapore Fintech Association, Chia Hock Lai also delivered his testimony in investing in Indonesia, at this time he was pioneering the opening of a coding school in collaboration with business players from Indonesia. Speaking in front of other potential investors Chia Hok Lai expressed her confidence for investors to invest in Indonesia, and appreciated the cooperation and support of the Indonesian Embassy in Singapore.
"For 2019 we are committed to increasing our investment in Indonesia, especially in the field of Education, because the rapid development of the digital economy we need new talent talents," he explained. "We also have a strong commitment to the development of the startups community and the spirit of entrepreneurship in Indonesia," he continued.
The Indonesian Ambassador invited all Singaporean investors and startups who were present on a business mission to attend the 2019 Regional Investment Forum (RIF) which will be held on 10-13 March 2019, by the Indonesian Investment Coordinating Board in Jakarta. 25 venture capital have expressed interest in attending the event. As a side event, the Indonesian Embassy will also hold a side event to explore investment opportunities on the field of digital economy on the sidelines of the RIF, on March 11, 2019.
Ambassador Ngurah also stated that the Indonesian Embassy always stand ready to facilitate VCs to visit and meet Indonesian startups to comprehensive consultations such as match-making, explanation of taxation regulations and labor consultation, to encourage faster VC investment decisions to take advantage of momentum investment in digital business in Indonesia.