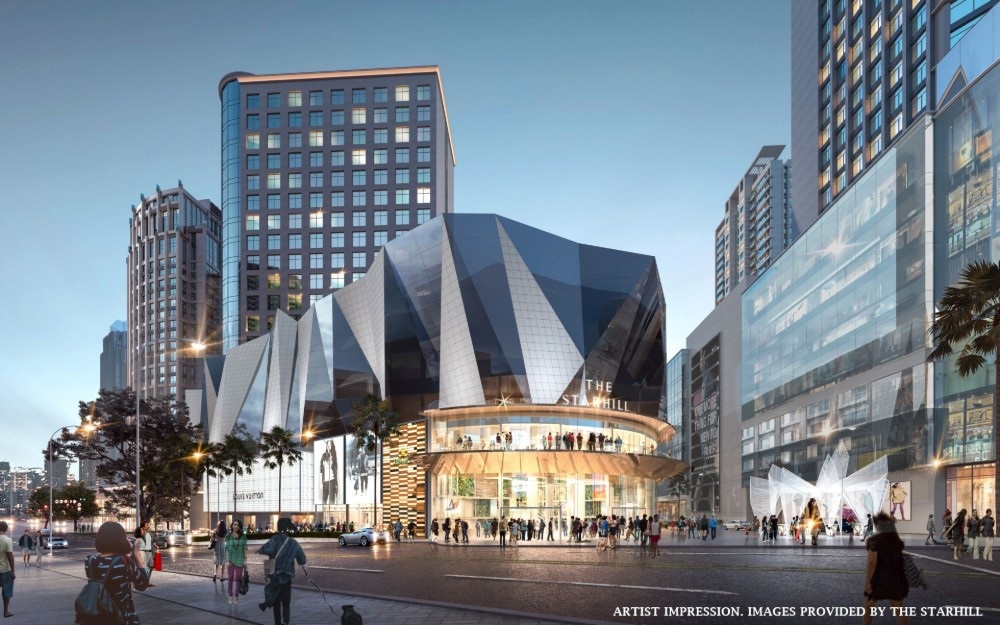 KUALA LUMPUR, 02th October 2019 :The iconic Starhill Gallery in the heart of Kuala Lumpur is undergoing a two-year face-lift to become a "first of its kind" retail-and-hospitality complex in Asia.
From October 2019, the mall will be partially closed for renovation with some brands continuing to operate. Key to the refurbishment is to improve spatial layout, circulation and overall shopping experience; all interior common areas will be fully refreshed.
"With fast-changing values and consumption behaviour among savvy and socially-connected consumers, the transformation to become The Starhill is in line with the need for retail malls to constantly evolve and differentiate to stay at the forefront of the changing retail landscape," said Mr Joseph Yeoh, Vice President of YTL Land & Development Bhd.
Starhill Gallery, which will then be revealed as The Starhill, is a high-end retail asset owned by Starhill Global REIT listed in Singapore Exchange, investing primarily in real estate used for retail and office purposes, both in Singapore and overseas.
Starhill Global REIT is managed by an external manager, YTL Starhill Global REIT Management Limited. The Manager is a wholly-owned subsidiary of YTL Starhill Global REIT Management Holdings Pte. Ltd. which is, in turn, an indirect wholly-owned subsidiary of YTL Corporation Berhad.
Joseph continues to explain, the concept of The Starhill reinforces the positioning as the place to be in Bukit Bintang – an exclusive urban oasis focused on experiences in a refined and polished retail environment.
"The Starhill bucks the city's cookie-cutter mall trend – going boutique-size at 300,000 square feet of retail space to cultivate a more personalised retail ambience which is warm yet discreet, when others have gone mega with an anodyne take on the shopping experience."
"Today – more than ever, discerning shoppers spend on brands with experiences that reinforce their presence and identity. They seek special access and discoveries but most importantly, they want meaning, authenticity and connection – and this is what we set out to achieve in The Starhill." said Joseph.
According to the statement, the completion of phase one renovation is scheduled for Q2 2020 in tandem with the relaunch of Shook!, Lu Yu Tea House and Jogoya. The soft opening of new stores and other F&B outlets is scheduled for Q4 2020. As a whole, the official launch of The Starhill with the new hotel rooms is scheduled for 2021.
Repositioned as the Home of the Tastemakers, The Starhill will redefine Kuala Lumpur's shopping scene in a new concept that infuses hospitality into the retail experience – where patrons will shop and stay in a refined home-like environment replete with tasteful, thoughtful touches of true tastemakers.
The Starhill will be distinguished by four floors of experiential retail space and three more floors of JW Marriott Kuala Lumpur hotel rooms creatively converted from former retail space in the upper levels of the mall, which will seamlessly be integrated as one vertical seven-floor development – a first in Asia that truly breaks down the boundary between retail and hospitality. The Starhill will then be connected to over 1,100 rooms of JW Marriott and The Ritz-Carlton, Kuala Lumpur.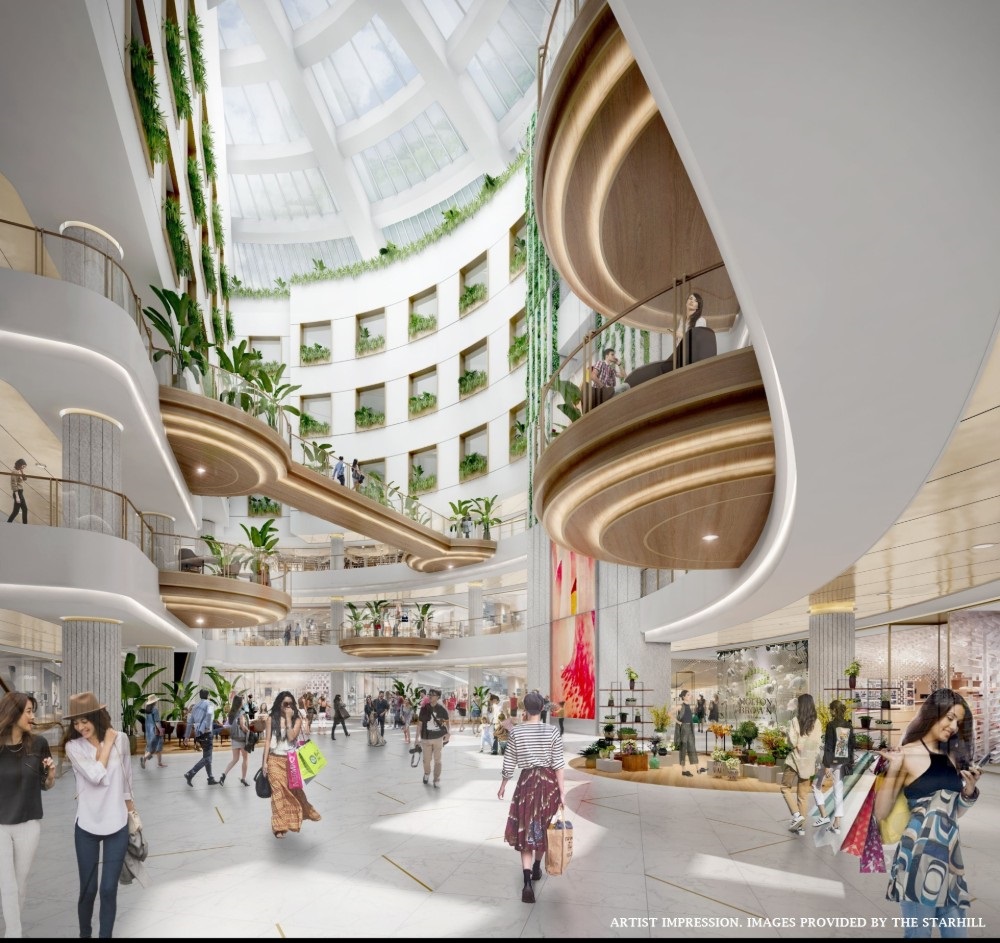 To redefine a brand new experience in modern living for shoppers, YTL has partnered with a stellar ensemble of top consultants from the region. The consortium comprising Cistri (Singapore), Husband Retail Consultant (Hong Kong), Kokai Studio (Shanghai) and Eight Partnership (Hong Kong) – expert retail, design and branding consultants who are at the top of their game — has meticulously studied the fluid landscape and identified transformative, game-changing strategies for The Starhill over the last two years.
In its new iteration, The Starhill is centred on three pillars of Home of the Tastemakers – The Living Room, The Tastemakers and The Social Circle.
The Living Room reflects the warm welcome of a home that extends to a garden greenhouse. The botanical interiors and thoughtful touches throughout the retail environment will create a unique sensory escape from the hustle and bustle of city living, right in the very heart of Kuala Lumpur.
Therefore, a new double-volume entrance atrium will feature a lush green wall with multiple LED screens projecting brand videos of The Starhill and tenants to welcome all visitors. The central atrium will also be overhauled to include a new connecting bridge plying across the sun-lit atrium and cantilevered balconies designed as pop-up space.
Besides, a library cum reading room environment showcasing books, design galleries and wellness experiences will be complemented with stylish F&B outlets to attract KL residents and global travellers to gather, interact and connect over shared interests in a new collective living space. A row of greenhouse-inspired cafés, lounges and restaurants in glass conservatories will line the Bintang Steps along The Starhill's revamped façade facing Jalan Gading. This will ignite an exciting new social café and dining street of KL to experience unique botanical cum culinary concepts.
The Starhill will host Tastemakers, a network of taste ambassadors from around the world who are at the forefront of trends in their industries, to shape the retail experiences and offerings in the mall. Boutiques of top design tastemakers of contemporary fashion and accessories, bespoke men's tailoring, couture jewellery and timepieces will stand alongside bistros and restaurants featuring renowned chefs and baristas to give visitors a curated experience of shopping and dining indulgences.
To enhance the holistic experience of the style and aesthetics of Tastemakers, The Starhill will host iconic events celebrating fashion, culinary excellence and street culture, and a line-up of more intimate events featuring musicians, artists, literary personalities, celebrities and even social influencers. This will augment well with the quest by discerning consumers for knowledge and contents in their retail experiences that are meaningful, thought-provoking and inspiring.
The Social Circle is central to The Starhill's strategy to build an inclusive community of new affluent target segments – the who's who of society, the millennials and Gen Z customers, the modern global travellers, the city dwellers and the urban professionals. The Starhill will offer social space and programmes that charm and enchant customers, and provide opportunities for them to come together and connect in the mall and on online social media platforms of The Starhill.
Community is central to every offering crafted from regular dialogue sessions with Tastemakers on subjects across music, art, literature, design, culinary, gentlemen hobbies, wellness and start-up entrepreneurship to creative hands-on workshops with designers and innovators.
Events and activities will be hosted across the retail and hospitality space including boutiques, F&B outlets, hotel rooms, new pop up spaces and the all-new Starhill Piazza fronting the Bukit Bintang façade of The Starhill; it will be the largest outdoor event space on the shopping street Jalan Bukit Bintang designed for a rotating slate of events, pop-ups, art installations, launches and seasonal decorations from international and local brands.