(Singapore Nov 16, 2022) Ukrainians have the right to have their own country and to run it the way they see fit, Michael Bloomberg, founder of Bloomberg LP told Fortune Times in Singapore today.
He gave the remarks at the Capella Hotel during the ongoing Bloomberg New Economy Forum while explaining to a Fortune Times journalist about some specifics of his outfit.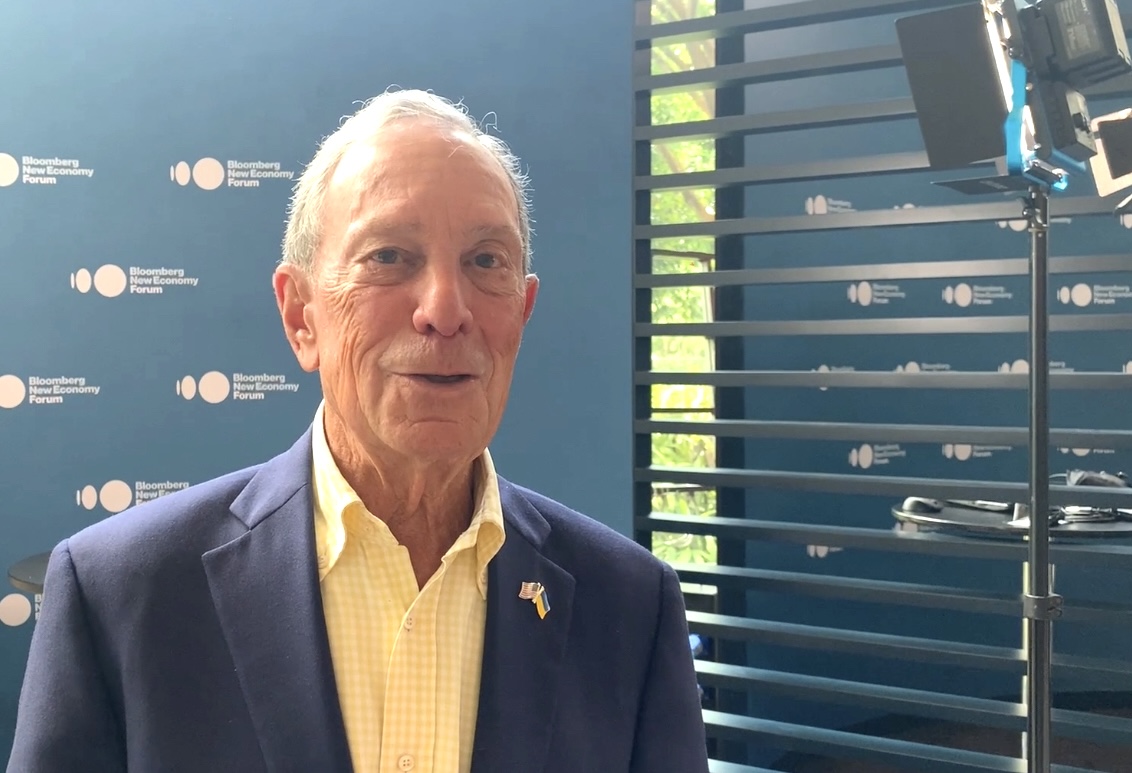 "I am wearing the Ukrainian pin next to the American flag pin because I believe Russia has no business in invading other countries," the US billionaire and three-term mayor of New York City told Fortune Times.
"Ukrainians have the right to have their own country and to run it the way they see fit," he added.
Before the interview, Bloomberg said in his opening speech for the Forum's second-day session that the event would slightly reschedule its agenda because people were killed in Poland.
"This morning, we were scheduled to hear from the US National Security Adviser Jake Sullivan but if you had seen the news this morning there were people killed in Poland and he's been pulled into conversations about that explosion just miles from the Ukrainian border," said Bloomberg who was also a candidate for the 2020 Democratic nomination for the US President.
Earlier media reports show that two people died in an explosion in Przewodow, a village in eastern Poland about 6 kilometers from the border with Ukraine. The explosion occurred after Russia attacked cities across Ukraine with missiles.
Reacting to the explosion, US President Joe Biden and other G-7 leaders were gathering in Indonesia's Bali, some 2,000 kilometers away from Singapore, to hold an emergency meeting on the sidelines of the G-20 leaders' summit. However, the explosion may not have been caused by a missile fired from Russia.
Back to Singapore's Bloomberg New Economy Forum, food supply crisis is another major topic that participants discussed as the result of the war in Ukraine as well as the tension between US and China.
David MacLennan, Board Chair and CEO of Cargill, said: "The world depends on inter-connected food supply system … I think it is the convergence of climate changes, supply changes, disruptions and geo-political stresses which is all adding to very tensive moments in ag markets and food prices."
In yesterday's session, US Trade Representative Katherine Tai told the media that despite challenges, food security is a shared goal that transcends differences between nations.
"There are certain transnational challenges that the US and China must work together on, and global food security is one of them," she said.
"It's frankly an issue that we need to work with all partners and countries on … with Ukraine, with Europe, with the World Trade Organization, to focus on keeping food trade moving around the world."
More than 500 participants from 53 countries are attending the four-day New Economy Forum which will end on Thursday. Most speakers are in town attending the event in person while others, including Chinese Vice President Wang Qishan and former US Secretary of State and National Security Advisor Dr. Henry Kissinger, attended it virtually.
In addition to political representatives from countries such as Singapore, China, and the US, Mike Bloomberg is also being joined by business leaders including Shou Chew, CEO of TikTok; Ryan Roslansky, CEO of LinkedIn; Neil Shen, Founding and Managing Partner of Sequoia Capital China; Dan Schulman, CEO of Paypal.
The security of the forum's venue — Capella Singapore where former US President Donald Trump met North Korean Chairman Kim Jong-En in 2018 — was stricter than many previous events. One of the hotel's security staff told Fortune Times that in general, only long-term hotel residents are allowed to enter the hotel during the forum session.