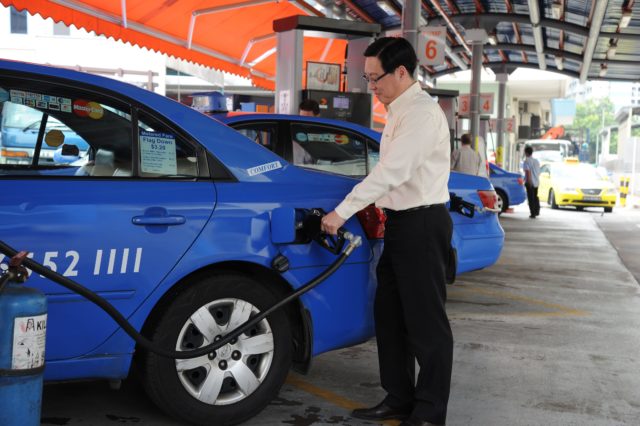 Singapore, 25 Jan 2018 – Transport giant ComfortDelGro has started a petrol station business to serve its growing fleet of hybrid taxis, and possibly, a larger fleet of private-hire cars once its alliance with Uber is approved.
The Straits Times understands that petrol pumps at ComfortDelGro's Sin Ming Drive premises have been operating for close to a year, while another in Bukit Batok started up towards the end of last year.
They will be joined by petrol pumps at two other company-owned locations later this year.
ComfortDelGro, as well as other taxi operators, has been selling diesel at discounted rates to its cabbies since the 1990s – a lucrative business which contributes tens of millions of dollars each year.
But ComfortDelGro is the first to enter petrol retail. The move came after it added the Toyota Prius hybrid to its fleet in 2011. According to the Land Transport Authority, hybrids now make up 18 per cent of Singapore's total taxi fleet of around 23,000.
Like its diesel, ComfortDelGro's petrol – available only in 95 octane – is priced lower than commercial pumps. It is currently retailing at S$1.56 a litre – some 30 Singapore cents lower than the discounted rates offered by stations run by oil companies.
ComfortDelGro gets its fuel supply from Caltex. Asked why it was supplying to a competitor, Caltex said: "We are supportive of a healthy, competitive environment, and believe trade should also be fair … We are not against approved ancillary pump points required by transport-related companies to serve their own fleet of vehicles."
Despite the significantly higher flammability of petrol vis-a-vis diesel, the Singapore Civil Defence Force said that ComfortDelGro's pump premises met its fire safety requirements.
Cabby Phua Cheng Guan, 66, said that he has been using ComfortDelGro's in-house petrol pumps since he started driving a Prius cab seven months ago. "It makes sense, since the price is a lot lower than outside."
Like other observers, Mr Phua expects the pumps to be opened to Uber drivers if ComfortDelGro's alliance with the US ride-hailing company is approved.
Elliot Lin, 33, who drives for Uber's Asian rival Grab, said that the pumps "will be another draw" for private-hire drivers.
Others said that the prospect of cheaper petrol might even encourage motorists to start driving for Uber. Jerry Yeo, 45, who is in the food and beverage business, said that this would be highly likely "unless they plug the loophole".
ComfortDelGro was not available for comment.
ST