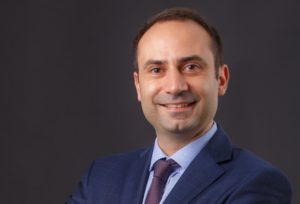 Singapore, 9 May 2018 – Indosuez Wealth Management, the global wealth management brand of Crédit Agricole Group, is pleased to announce the appointment of Julien Collin as Head of Markets, Investment & Structuring (MIS) in Singapore.
In his role, Julien Collin is responsible for providing global asset allocation advice, investment solutions and recommendations dedicated to Indosuez Wealth Management's ultra-high net worth clients, serviced by Singapore-based relationship managers. He leads a team of 35 professionals in Singapore, covering Foreign Exchange & Precious Metals, Structured Products, Advisory, Discretionary Portfolio Management, Private Equity, Funds, Execution, Real Estate, Wealth Structuring and Credit Structuring activities.
Julien Collin began his banking career in 2007 when he joined Crédit Agricole Corporate & Investment Bank in Mergers & Acquisitions and later the General Inspection division carrying out strategic assignments related to activities in Europe, the UK, the US and various Asian countries. Subsequently, he joined Crédit Agricole S.A's
Group Strategy & Development Unit, and worked in Italy for CA Cariparma's Corporate division.
In 2014, he joined Indosuez Wealth Management as Head of Markets & Investment Solutions in Paris. His strong performance in growing the business and management of strategic projects saw his relocation to Singapore in July 2017 as Acquisition Programme Director to steer the successful integration of CIC Private Banking Operations in Asia.
"Julien is an asset to our enhanced team, with a proven international track record in Wealth Management
Products, Services & Strategy and most recently in spearheading the smooth acquisition and integration of CIC's Private Banking operations in Asia, a crucial component of our expanded Asian offering," said Pierre Masclet, Asia Chief Executive Officer of Indosuez Wealth Management. "He ran a tight ship to ensure on-time, on-target closing of the successful acquisition'' he added.
He reports to Pierre Masclet and to Arjan de Boer, Head of Markets, Investment & Structuring, based in Hong Kong.