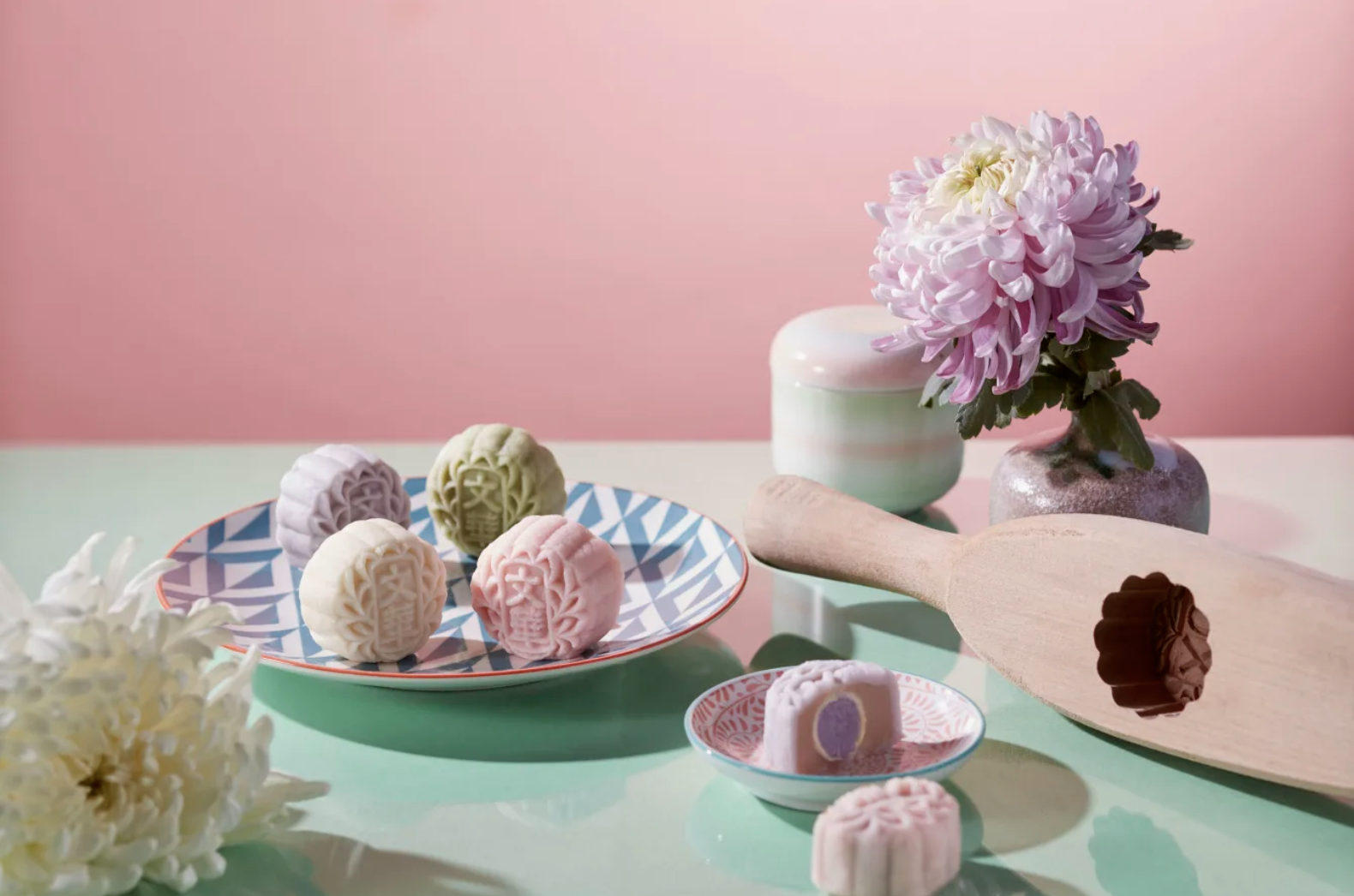 An assortment of snow skin mooncakes created by Mandarin Orchard Singapore's culinary team
(Singapore, 28 July 2020)Mandarin Orchard Singapore features an exquisite ensemble of classic and contemporary mooncakes, specially handcrafted by the Hotel's award-winning culinary team to celebrate the Mid-autumn Festival.
Available from 25 August to 1 October 2020, each two- or four-piece selection is presented in a lustrous blue gift box, embellished with a lattice-patterned crest and a customisable leather patch in rose gold. Touches of teal and delicate foil stamping accentuate the motifs of chrysanthemum blooms and dragonfly—symbolising good fortune, joy, and longevity.
Leading this year's curated assortment of mooncakes is the Double Yolk and White Lotus Paste Baked Mooncake. A perennial favourite, this traditional baked mooncake is brimming with creamy white lotus paste that is the perfect contrast to the two flavourful salted egg yolks at its centre.
A nod to the Cantonese classic, the signature Mixed Nuts and Jamón Ibérico Baked Mooncake remains a popular choice with its multi-textured filling that combines sweet and savoury with every bite. Those looking for a guilt-free option will find the Macadamia Nut and Low Sugar Paste Baked Mooncake a delicious, health-conscious treat. Adding variety to the lineup is the Japanese-inspired Azuki Red Bean Paste and Pine Nuts Baked Mooncake—sweet azuki red bean paste and crunchy pine nuts encased in delicate pastry.
The Mandarin Collection is ideal for gifting, with each set comprising four assorted baked mooncakes—Mixed Nuts and Jamón Ibérico, Double Yolk and White Lotus Paste, Macadamia Nuts and Low Sugar White Lotus Paste, and Azuki Red Bean Paste and Pine Nuts.
Ever popular is the Hotel's range of pastel-hued mini snow skin creations including Lychee Martini and Chocolate, and Red Wine Cranberry Paste with Japanese Yuzu and Lemongrass. Filled with a creamy decadence, these delicate and refreshing mooncakes are sure to impress.
Guests can purchase Mandarin Orchard Singapore's 2020 Mid-autumn Collection from 25 August to 1 October at Coffee & Crust located on Level 5 of the Hotel.
To order online, visit shop-orchard.meritushotels.com. Pre-orders will be available from 1 August onwards, either for delivery or self-collection at Coffee & Crust.
DBS/POSB card holders will be entitled to 30% discount until 1 September for early bird discount, and 25% thereafter. UOB and Citibank card holders will enjoy 20% discount until 1 September, and 15% thereafter.
For orders or enquiries, please call 6831 6320/6262 or email festivedesk.orchard@meritushotels.com.
For more information, view the brochure here and the order form here.